Treating Ebola
An isolation unit flying on 60-metre wings
The 'Robert Koch' plane for medical evacuations (MedEvac) is the winged equivalent of a German hospital isolation ward. Within it, medics with viral haemorrhagic fever while working on the Ebola outbreak in West Africa, receive intensive medical care during any stages of the disease, while being evacuated.

Report: Anja Behringer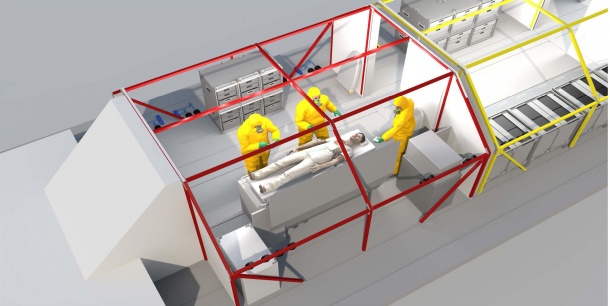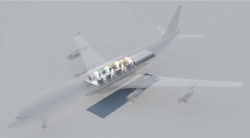 The concept was developed by experts at the Robert-Koch-Institute for infectious and non-communicable diseases, under the supervision of the Federal Foreign Office. Previous, smaller transport isolation units, such as those used in standard air ambulances, can only safely transport patients who are still in the incubation phase of the disease, i.e. those who do not display symptoms yet. Rescue helicopters are also not suitable to transport infected patients because they cannot be comprehensively disinfected due to on-board electronics.
Pilots and flight crew, two medical teams, two technical teams and a chief of operations man, the MedEvac-A340 Robert Koch Airbus A340-300 containing its large isolation unit. Team members with patient contact wear protective clothing. Patient and staff enter and leave the treatment area via a decontamination chamber to prevent spread of the pathogens.
The isolation unit has a vacuum and is hermetically sealed – a set-up presently unique on board a plane. A large pressure compensation tank in the rear of the plane ensures that even in the rare case of an air emergency, e.g. sudden loss of pressure, the isolation unit remains intact. Due to these measures the release of the Ebola virus is deemed impossible.

Germany's Countrywide isolation wards
The Federal Republic of Germany has seven specialist treatment centres with isolation wards and laboratories in Hamburg, Berlin, Dusseldorf, Leipzig, Frankfurt, Stuttgart and Munich, providing 54 beds in total.
To transport infectious patients, in early 2015 these centres were allocated 10 specialist ambulances ventilated with filters and easier to clean than conventional ambulances. A large number of specially trained staff, wearing protective clothing, accompanies all transports in these vehicles. Due to the large number of staff needed to handle infectious diseases cases, a maximum ten patients can be treated simultaneous in this country.
At the request of the World Health Organisation (WHO) the first patient with Ebola virus disease was transported to Germany at the end of August 2014. The epidemiological bulletin published on the Robert-Koch-Institute website in December explained the treatment process from the point of view of the Hamburg Public Health Office.