Elasto augments the IU22 ultrasound platform
Philips launches Elasto, a new capability available for the IU22 ultrasound platform for elastographic examinations of the breast and thyroid
Philips has developed a proprietary technology for elastography that uses new strain analytics for signals captured on the IU22 volume linear transducer and yields a relative quantification of tissue stiffness, which is presented as statistical charts displayed alongside a colour-coded qualificative image superimposed on the B-mode screen.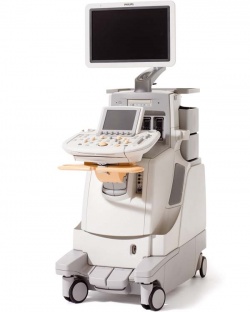 'This is an important new complementary diagnosis with the potential to reduce the number of biopsies, which not only relieves patient stress but also can reduce the costs to healthcare systems,' explained Jim Walchenback, marketing manager for Philips Ultrasound.
Joana Crochet, at Philips Ultrasound in France, who demonstrated the new IU22 capability at the French radiology congress in Paris, explained that the elastography uses the naturally occurring disturbances within the body caused by either pulsing arteries for the thyroid scans, or a woman's respiration for the breast examination.
This differs from competitive technologies that require an external force to cause the disturbances picked up by the transducer, she explained. 'With one system the operator presses down on the patient and other systems push an ultrasound pulse through the tissue. The Philips transducer is highly sensitive and able to deduct quantifiable tissue variations based on blood flow and breathing.'
The statistical displays of relative stiffness help radiologists to better classify detected nodules between a BI-RAD score of three, which is a benign structure, and a score of four, which is suspected to be malignant and would require a biopsy for verification. 'Elastography is not a revolution for Philips but a progression for the IU22, adding a useful feature to a comprehensive toolkit for breast examinations,' she added.
More on the subject:
More on companies: