Dynamic processes and volume in one capture
During a Toshiba press conference on Monday at ECR 2008, Prof P. Rogalla Chief Radiologist CT and Prof R. Klingebiehl, Department of Neuroradiology both of the Charité University Hospital, Berlin (Germany), reported about the new diagnostic opportunities the company's latest innovation — the Aquillion ONE - offers.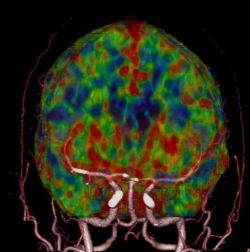 The Aquilion ONE dynamic volume CT from Toshiba Medical Systems offers the ability to scan the entire organ, e.g. the heart, brain or liver, in one rotation and in a fraction of a second. The dynamic volume computed tomography scanner is the first in the world to boast an anatomical coverage of 16cm and 320 simultaneous slices. This innovation opens up a set of new applications in the use of computed tomography, while the expanded dynamic volume diagnosis makes it highly patient-oriented.
Whereas patients exhibiting symptoms of a heart attack or stroke have until now normally had to submit to a variety of examinations preparatory to a precise diagnosis, all of which together took up a considerable amount of time, with the Aquilion ONE this can now be slashed to a matter of minutes and one single examination.
In neurology e.g. the physician receives high-resoluted perfusion images, vessel & perfusion images as well as dynamic angiography images. "Due to these features were are able to perform 4D stroke imaging and even to examine trauma patients," Prof Klingebiehl reported at the conference.
"Beneath these groundbreaking options in neurology, the Aquilion ONE especially enables us to analyze joint movements. That is a totally new and promising feature that will bring us diagnostic advantages for example complicated cases like the wrists", Prof Rogalla added.
Leading medical practitioners also predict that the scanner will be particularly useful in cardiology, as it allows the entire heart to be captured live in just one heartbeat. In particular, the speed and stability of heart imaging are crucial to obtaining an optimal workflow and the best results.
Technical background:
The Aquilion ONE makes it possible for the first time to represent organs in three dimensions, thereby also enabling dynamic processes such as blood flow and function to be observed. The 16cm of anatomical coverage using the parallel 320 ultra high-resolution 0.5mm detector elements means that the Aquilion ONE, unlike previous CT scanners, can capture entire organs such as the heart and brain in just one rotation.
Installations
The first scanners for clinical routine in Europe have been installed at the Charité University Hospital in Berlin Germany, Leiden University Medical Center in Leiden The Netherlands, and recently the University Hospital of Graz in Austria, with additional systems in Japan, the USA and Canada. The company has already received various follow-up orders, so further installations should follow shortly.
More on the subject:
More on companies: