Diagnostic accuracy of PET and CT in early stage lung cancer
A multi-institutional study recently compared whether positron emission tomography (PET) or computed tomography (CT) performs more efficient in the characterization of solitary lung nodules (SPNs). Previously performed studies were either limited by small sample sizes or carried out more than a decade ago with outdated technology and methods.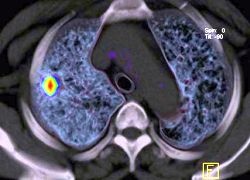 SPNs are lesions measuring less than 3 cm that are located in the outer third of the lung. They are often the first manifestation of lung cancer and can be detected in X-ray images. Approximately 16% of lung cancer cases are diagnosed at this early stage.
"CT and PET have been widely used to characterize solitary pulmonary nodules (SPNs) as benign or malignant," explains James W. Fletcher, professor of radiology at Indiana University School of Medicine in Indianapolis, USA. "Detecting and characterizing SPNs is important because malignant nodules represent a potentially curable form of lung cancer. Identifying which SPNs are most likely to be malignant enables physicians to initiate the proper therapy before local or distant metastases develop," the expert adds.
In the course of a large, multi-institutional study an independent panel of experts interpreted PET and CT images of 344 patients in each imaging modality. The study's authors compared the expert panel's determination of benign and malignant modules to pathologic findings or changes in SPN size discovered over the next two years. They discovered that PET is far more reliable in the differentiation between benign and malign nodules:
PET and CT turned out to be equally good modalities in determining "probably" or "definitely" benign lesions. But PET has a higher specificity accurately classifying 58% of benign nodules, that had been icorrectly classified as malignant on CT images. The specifity in diagnosing definitely malignant lesions is also much higher with PET.
"In patients with an untreated and undiagnosed SPN between 7 and 30 millimeters, PET provides better identification of malignant nodules that require a more aggressive treatment approach," comments Fletcher. "PET in combination with CT can also provide good identification of those nodules that are most likely to be benign, suggesting that a 'watch and wait' strategy can be adopted in lieu of unnecessary invasive - and expensive - procedures such as needle biopsy or surgery."