Device successfully combats airborne pathogens
Designed to decontaminate air and thus reduce the chance of infection by airborne pathogenic organisms in areas from hospital wards to waiting rooms or any other enclosed rooms, Medixair has been clinically demonstrated to reduce healthcare associated infections (HCAI).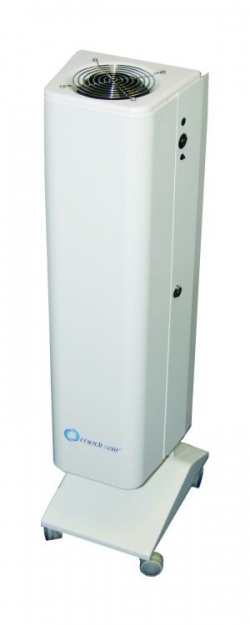 During trials in a hospital in England, Medixair drastically reduced levels of MRSA in the environment while entirely preventing the colonisation of patients. A further trial in the same hospital showed that Medixair also greatly reduced the level of C.difficile in a ward heavily infected by the bacteria.
Working at a rate of 25m3/ hour, air passes through the machine, which concentrates UV light in a unique way to breakdown the DNA of microorganisms, and a stream of sterile air is released that dilutes environmental contamination and provides continuous and sustainable protection by keeping equipment and surfaces cleaner. 'It is therefore an excellent complement to combat the return of contamination after deep cleaning,' the manufacturer explains. 'Installed as a single unit in a side ward or as multiple units in open bays, Medixair has an immediate and positive impact in terms of reducing rates of HCAI.'
The device, which is mobile, easy to use, extremely quiet when running and employs only Ultraviolet light that is safely located in a protection shell, is marketed by GE Healthcare.
More on the subject:
More on companies: