Despite the poor market outlook Medica 2008 proved a superlative event
Dusseldorf, November — Medica's anniversary had many significant facets: in its 40th year, and for the 40th time, this spectacular international medical trade fair broke its previous year's record in visitor numbers — but, only just. The event was not only struck by the snow and ice of a sudden winter onset, but also by a storm that brought a level of chaos to Messe Dusseldorf's outdoor environs.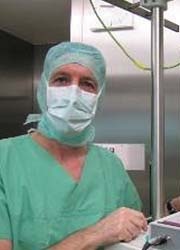 Meanwhile, the 17 exhibition halls, hosting 137,000 visitors, were so manic that even mobile phone networks overloaded and transmission intermittently ceased.
Nonetheless, MEDICA and COMPAMED again offered a superlative stage on which to present the world's most up-to-date medical technologies manufactured by over 4,300 exhibitors (50% of them from countries other than Germany). Along with the exhibition the congress programme provoked stimulating discussions between and with medical experts.

Apart from the customary high interest in medical technology and electronics, interest was high in physiotherapy procedures and medical IT.
Among the individual country's pavilions we visited, New Zealand showed us innovations from Pulsecor and WinScribe.

Pulsecor was demonstrating its mobile, non-invasive measuring device, which is already in use at university hospitals in Edinburgh and Aarhus. This provides a simple, accurate and quick assessment of aortic stiffness and central blood pressure; measuring various echocardiographic values takes a minute.

WinScribe focuses on equipping mobiles, e.g. blackberries and PDAs, with a dictating function, so that physicians can update medical records wherever they are and transmit them to a typist automatically. It was pointed out that this improved communication can result in up to 50% savings in diagnosis management costs.
Draeger introduced Drug Test 5000, a saliva-based, quick drug test that recognises six different classes of substances: cannabis, cocaine, opiates, amphetamines, metamphetamines (so-called designer drugs) and benzodiazepines (tranquilisers). In up to 10 minutes the system indicates a clear result for each substance, firm reported. This not only leads to fast information about potential drug misuse but also helps to reduce the number of more costly and time intensive blood tests in a laboratory.

The 2008 head-turners
To present various mobile applications for the world's smallest heart-lung machine (Cardiohelp), Maquet showed an original and completely equipped ADAC rescue helicopter, causing a stir and much interest among visitors.
No less impressive were accessible plastic models of the human anatomy, for use by doctors to explain their illnesses or surgical interventions more clearly to patients who often cannot understand what is being said. Even experts in various medical fields were markedly impressed by the oversized dimensions of the organs.