Compact, comfortable and cost-effective
Toshiba's new 1.5-T MRI Vantage ELAN system is not only cost-effective, the firm reports, but truly compact; it needs only 23 square metres of space. Yet, the system uses the same type of magnet as other Toshiba products to achieve excellent image quality.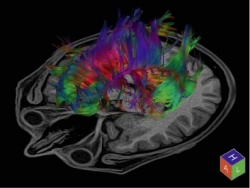 'With its widely recognised complete M-Power clinical application software suite and HHS (High Speed Switching) technology to facilitate the use of 16 channel coils, the Vantage ELAN manages to maintain ease of use for the operator while offering a quiet and comfortable patient experience due to Toshiba's renowned Pianissimo noise reduction technology.'
That low-noise level, which signifi­cantly improves patient experience, was among the system's features that particularly attracted radiologist Dr Peter Thorsten since it's innovation. When expanding his radiology practice in Güstrow, Germany, he selected this system – the first outside Japan – as a 'natural choice' due to his successful relationship with Toshiba since 2010, when the firm installed a Vantage Titan MRI scanner.
All types of examinations
Dr Thorsten is particularly enthusiastic about the user interface of the Vantage ELAN and because his staff is already familiar with the Toshiba protocols he feels the shift to the new system will be smooth. 'I had the opportunity to look at the system at RSNA in Chicago and was so impressed by its performance and the coil concept that we decided to acquire it,' he explained. It will be used for all types of examinations from the head to the spinal column and joints. 'Abdominal MRI is also an important area in our office and the Toshiba sequence strategy has enabled us to specialise in MR phlebography,' he added.
Aiming to grow its market share, particularly in Europe, Toshiba is confident that the addition of this new system to its MRI portfolio boosts market opportunities.
Alain Bertinatti, Toshiba Medical Systems MR Business Unit Manager in Europe, underlined that the current cost pressure on hospitals and healthcare systems was a major consideration in the development of the new product. Faced with the decision to either compromise on its renowned image quality, design, technical innovation or unique set of features, or to endeavour to deliver a high quality product at a competitive price, the company clearly opted for the latter. The resulting is reported to combine outstanding homogeneity and a 1.5-T ultra-short zero boil-off magnet to provide excellent image quality. In addition, the Vantage ELAN is equipped with Eco Mode technology to ensure highest energy efficiency.
All the latest innovations of Toshiba systems are available on the system, Alain Bertinatta pointed out, 'including Toshiba's advanced non-contrast MRA technology, which allows exceptional vascular imaging without the use of contrast.'
In practice - less contrast agents in MR angiography
Dr Isabelle Parienty-Boyer from the Radiodiagnostic and Medical Imaging Centre, Hauts-de-Seine, France, is a specialist in non-contrast renal MR angiography. She has performed about 700 examinations of renal arteries in renal insufficiency patients. Since referring nephrolo­gists often ask her to refrain from using gadolinium she works with Toshiba's Vantage MR system without contrast agents because the results are as good as the contrast-enhanced scans, sometimes even better. In her opinion Toshiba offers the best equipment for this type of examination because of the ability to use two planes, axial and coronal.
Quick and easy installation
Hans Baartman, Senior Product Manager at Toshiba Medical Systems Europe, highlighted another major benefit: the ease and speed of installation. Since the new system requires little space it can simply be integrated into the examination room.
With all elements integrated, such as ECG and recording equipment, the system is ergonomically designed to be comfortable for operators. Feet first imaging significantly enhances the patient experience, Hans Baartman added, and the Pianissimo capability, integrated coils and sound suppression technology reduce the noise of the MRI. 'There is also the option to tilt the patient's head 10 or 20 degrees to make the patient feel a little more comfortable. In addition, the new light design of the board helps reduce the claustrophobic feeling many patients experience,' he pointed out. The Vantage ELAN has a 63 cm aperture with feet first imaging available for all types of examinations, except for scanning of the head and upper torso. Full angio and cardio suites are available, and the body package can be extended to include the SpineLine application offering fully automated planning of spine examinations. Together, these options enable head to toe imaging.
More on the subject:
More on companies: