Combating surgical infection risks
Shocking: Air quality checks are infrequent and insufficient in operating theatres. The good news: a new device can now measure pathogens circulating during surgical procedures, John Brosky reports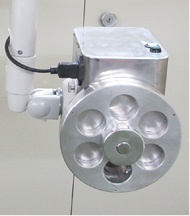 Surgical masks, special clothing and sterile packages – precautions taken to create a squeaky clean operating room are impressive, giving the surgical team confidence. Yet, this is exactly the space where the patient faces the highest risk of acquiring a deadly infection, with body opened, exposed to gloves, instruments and perhaps most importantly, to air.
Despite all the efforts made to prevent contamination, the Department of Health and Human Services recently estimated two out of every 100 surgical procedures in the USA result in surgical site infections (SSIs) and that healthcare-associated infections (HAIs) account for 1.7 million infections and 99,000 associated deaths each year.
The causes of infection remain a mystery despite prevention practices and advanced operating theatre technologies, such as horizontal flow ventilation or ultraviolet germicidal irradiation of upper room air.
Professor Daniel Talon MD believes you cannot prevent what you cannot measure. Head of Hygiene Services at the University Hospital Centre Jean Minjoz (Besançon, France), Prof. Talon developed the first device to measure pathogens circulating in the operating room during a surgery. Presented at the MEDTEC France exposition in May, ScreenAir was recognised as the top innovation in medical technologies at the event.
Currently, he said, standard practice in a hospital is to measure air quality in an operating theatre when no one is in the space. These air quality checks are performed every few months.
'This completely ignores the fact that any contamination in the operating room is created in situ by the surgical team,' he said, by their clothing, particles of skin that circulate, by their movements and even the number of time the door to the operating room is opened.
The ScreenAir device pulls the ambient air through a filter, programmed to sample the air at regular intervals during a surgical procedure. Each filter is indexed for the time of sampling to better identify when any contamination took place, thanks to a camera linking an image to the sample period. Each filter is then sent to the hospital lab for analysis using standard techniques to cultivate colonies of pathogens.
Early identification of a pathogen potentially hazardous to the patient enables the surgeon to consider administering a therapy of antibiotics before the infection can take hold. 'What we need is an ability to trace and quantify sources of infection,' Prof. Talon stressed. 'Checking the air every two months, or six months doesn't tell you much.'
The ScreenAir device is designed to be used for what Talon called clean surgery, procedures that do not involve the respiratory, gastrointestinal or genitourinary tracts, such as orthopaedic implantations, interventional cardiology, or laparoscopic procedures.
A professor at the University of Franche-Comté in Besançon, Dr Talon is a recognised authority on hospital hygiene and infections. He has authored 127 publications and his work has been cited 915 times in other publications.
He has studied the pathogens that infect patients, as well as the sources of contamination in the operating theatre by water, hands and clothing. In his field of expertise, shoes, gloves and the fabrics used for surgical gowns are subjects for intensive study and discussion. Floor bacteria, for example, has been found to contribute up to 15% of airborne bacterial contamination in operating theatres. Microscopic particles of the patient's own skin floating in the air may carry flora that can establish a colony of fast-growing bacteria on freshly exposed tissue.
The professor first suggested bacteriological testing is crucial in a paper published in 2006, 'Air cleanliness in operating rooms: on-site controls and biological testing.'
'Today there is nothing available to measure and quantify the potential for aero-biocontamination of a patient during surgery,' he told European Hospital, adding: 'We are unable to say if an infection was caused by an operation or not. Now there is a device with ScreenAir,'
The device was developed in a tight collaboration between Prof. Talon, the Clinical Investigation Centre affiliated with the University hospital and STS Industrie. The director of STS Industrie, Dimitri Fournier, said the partners are now looking for opportunities to win regulatory approval for the device and begin commercialisation.