Colour calibration
NDS Surgical Imaging has developed and patented a unique method for calibrating the colour response of its Radiance surgical displays, the manufacturer reports. 'This proprietary technology uses advanced algorithms to perform pixel-by-pixel colour response correction in real-time, delivering accurate consistent colour performance.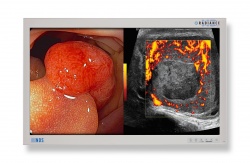 'Every display is individually characterised and calibrated at the factory to meet stringent chromaticity tolerances for both the primary colours (red, green and blue), and the white-point. This process ensures almost zero perceivable variation in colour from one display to the next.
'Certain brands of surgical displays are not calibrated in such a manner, which would result in inconsistent colour appearance from one display to the next, NDS points out. 'This is analogous to the inconsistencies that may be seen when viewing different brand TV's at an electronics store. This may be acceptable for the consumer market; however, is not ideal for medical applications.'
When performing minimally invasive surgical (MIS) procedures, surgeons rely on flat panel LCD displays as their only method of visualisation of the surgical site, NDS points out. 'The colour appearance of tissue, vascular structures and other anatomy can tell the surgeon a lot about the condition and health of the patient. Therefore, it's critically important that the flat panel displays used by surgeons always render anatomical colour consistently and accurately. NDS Radiance displays do exactly that, giving clinicians a higher level of confidence in their procedures, no matter what mobile cart system or operating room they are using.