Colonic stents - buying time for surgery
By Ajay Bernard Chakrabortty MD and Debasish Ghosh FRCS PGCert
In 2006, about 307,432 new cases of colorectal cancer arose in the European Union. The rates varied by a factor of two for women and three for men. The lowest rates were in Greece; the highest in Hungary and the Czech Republic. The incidence of colorectal cancer is increasing in Europe, particularly in the south and east, where rates were originally lower than in Western Europe.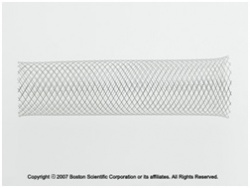 In the U.K, approximately 34,000 patients are diagnosed with colorectal cancer annually. Left-sided colorectal carcinoma accounts for 56% of all colorectal cancers. Acute left-sided colonic obstruction is most often caused by malignancy in up to 40% of patients and acute colonic obstruction has a high mortality (12%) and morbidity (39%).

Left sided tumours present with large bowel obstruction and signs and symptoms include change in bowel habit, absolute constipation, abdominal distension and late vomiting.
Traditional management included fluid resuscitation and emergency laparatomies and ranged from loop colostomies to a Hartmann's and even subtotal colectomies. These interventions have a mortality rate of 15-34% and a morbidity rate of 32-64%. The pitfalls included the unwell patient, advanced age and uncontrolled significant co-morbidities.
A newer approach was to optimise the patient's condition by decompressing the obstruction, staging the disease appropriately, controlling the co-morbid conditions and offering the 'right' patient the 'right' type of intervention -- by inserting a stent.
Colonic stents were introduced almost 20 years ago and their first published use came out in 1991. The first stents used in the large bowel were designed for vascular and oesophageal use, but have since been designed specifically for placement in the colon. Colonic stents are self-expanding metal stents.
In theory those patients not eligible for stenting are those with rectal lesions and those lesions before the splenic flexure reasons being tenesmus and difficult bowel prep respectively. But papers and reports have been published of stents being used not just relieving obstruction in malignant left-sided strictures but also those caused by diverticular disease, rectal disease and right-sided colonic obstruction, but these will need further evaluation.
As a rule colonic stents have been used as a 'bridge to surgery' in patients with no significant co-morbidities prior to intervention and no metastatic disease i.e. resectable tumours and as a definitive procedure/palliation in patients with significant co-morbidities, metastatic disease and at high risk of mortality associated with general anaesthetic.
The current stents available are uncovered, but there have been reports on the use of uncovered and covered oesophageal stents in the colon. Various enteral stents are now marketed. The most widely used stents are manufactured in the United States; Ultraflex Precision Colonic Stent System and Wallstent Colonic & Duodenal Endoprosthesis by Boston Scientific/Micro-invasive, and in South Korea, TTS (through the scope) Niti-S Colorectal Stent and Niti-S Colorectal Stent by Taewoong- Medical Co. Ltd.
Stents can be inserted under fluoroscopic guidance, endoscopic guidance or a combined approach.
Overall technical success rates are generally in excess of 95% with relief of obstructive symptoms in 85%-90% for palliative stenting. In a comprehensive review of 58 publications on colorectal stent publications from 1990 to 2000 stent insertion was successful in 551 of 598 cases (92%).
But not all procedures are without complications, which include perforation, migration, re-obstruction, bleeding and pain. Perforation, the most significant complication, can lead to peritoneal tumour spill and thus can make a potentially curable disease incurable.
However, various studies over the years have compared the use of both colonic stents as a bridge to surgery and as palliation when compared to emergency laparatomies. It may come as no surprise that most papers support the use of colonic stents as the technology and expertise becomes more readily available to smaller district general hospitals. Also, colonic stenting for patients with acute colonic obstruction secondary to a resectable colonic tumour is comparable in cost with surgical options.
The latter has been the case in the district general hospital where we worked. Since 2007, colonic stenting became a more widespread practice. Over the past three years, the General Surgery Department in conjunction with the Gastroenterology Department (in a multi-disciplinary approach) have stented just over 20 patients. Results showed 83% of patients underwent surgery after stenting as a bridge procedure, whereas 17% were unable to undergo surgery due to metastatic disease and thus had stenting as palliation. The major complication encountered was rectal bleeding.
Conclusion: Colonic stents have proved their worth in the emergency management of left-sided bowel obstruction by significantly reducing the mortality and morbidity.