Trail blazing bariatric surgery devices
Major advances in Natural Orifice Transluminal Endoscopic Surgery (NOTES) lead to a tremendous interest in new surgical endoscopes. The advantages of minimally invasive surgery via natural body orifices, such as the mouth, are obvious: less post-operative pain, a minor infection rate, minor incisional hernia, shorter hospitalisation and, finally, better cosmetic results. Karoline Laarmann reports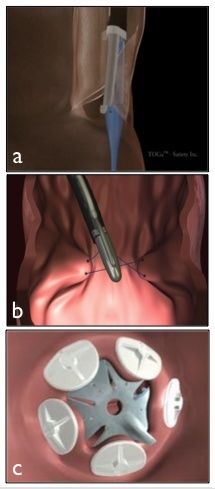 This made NOTES an attractive alternative to laparoscopic or open surgery in many gastro-intestinal fields. In the treatment of morbid obesity today, bariatric surgery is already unimaginable without endoluminal procedures.
Due to huge medical demand, endoscope manufacturing has become fiercely competitive. According to a companiesandmarkets.com report in August 2011, by 2016 the global endoscopy devices market could be worth more than $33.7 billion, growing at a compound annual growth rate of 6.4% over the reporting period. No wonder new endoluminal techniques and gastroscopes are rising up like mushrooms.
Dr Giovanni Dapri, Assistant Professor at the Department of Gastrointestinal Surgery, European School of Laparoscopic Surgery, Saint-Pierre University Hospital, Brussels, Belgium, is a renowned expert in endoluminal therapy who knows all the trends in weight loss surgery.
Speaking first about endoluminal procedures without any surgical incisions, Dr Dapri differentiates between primary and revision bariatric surgery. Focusing on primary surgery in patients who have previously not undergone surgical treatment, he explains: 'For primary procedures, today we have the opportunity to perform a trans-oral gastroplasty. Mainly in use was the TOGA system (Satiety; Fig.1a) which allowed for a restrictive procedure similar to conventional vertical band gastroplasty.' This consisted of a set of flexible staplers designed to be introduced and operated trans-orally to restrict the stomach's capacity. Thus the TOGA sleeve stapler was placed in the stomach and opened, creating a vacuum that brings the stomach folds in on itself. The tissue was then sucked into the stapler and titanium staples were delivered to create a narrow sleeve.
The endoluminal vertical gastroplasty performed with EndoCinch (Bard; Fig.1b), another type of trans-oral gastroplasty, was initially invented for the endoscopic treatment of gastro-oesophageal reflux disease. Principally, it works equally with TOGA but, instead of staples, it uses a needle and thread. EndoCinch can also be used in revision interventions.
Unlike TOGA and EndoCinch, which create an endoluminal channel in the first stomach tract, a third endoluminal method exists that is not yet available in Europe, though its feasibility and safety have already been proved in clinical studies at the University of Laval, Québec, Canada. 'With the Trans-oral Endoscopic Restrictive Implant System, in short TERIS (BaroSense; Fig.1c), we'll also soon be able to perform a similar procedure to gastric banding, but completely through the endoscopic procedure,' Dr Dapri explains.
With TERIS, a specialised tool is passed down a protective tube from the mouth to stomach, where it pulls in the stomach wall to produce a fold of tissue that is then used to anchor the implant. A number of these folds are made, coupled to the silicone anchors, and then attached to the implant.
To avoid further surgical interventions, minimally invasive endoscopic techniques have also gained a foothold in revision strategies. In patients who present complications, or show insufficient weight loss or a weight regain after bariatric surgery, a second group of endoluminal procedures exist – some already launched commercially, some still under development. 'Due to a stretched gastric pouch and an additional habituation of the digestive tract after gastric bypass or gastric banding, about 20 % of patients experience a renewed weight regain after some years. So, the aim of these revision techniques is to restore the size of the pouch and stoma close to the original post-bypass proportions,' Dr Dapri explains.

One of those devices is StomaphyX (EndoGastric Solutions; Fig.2a). During the procedure, sections of stomach tissue are sucked into a small opening in the device, which creates folds of tissue resembling a pleat. Then multiple fasteners are placed at the base of each suctioned portion to make the pouch smaller.

A second device, the TransPort (USGI; Fig.2b), is already available. During Revised Obesity Surgical Endoscopy (ROSE) procedure it uses sutures with tissue anchors to create multiple folds around the stoma to reduce its diameter. Sutures are then placed with anchors in the stomach pouch to reduce the amount it can hold. There is also a variation of this technique in primary surgery, called POSE (Primary Obesity Surgical Endoscopy) procedure.
Recently introduced to clinical practice is the OverStitch Endoscopic Suturing System (Apollo; Fig.2c). Although there is little data collected about OverStitch as yet, Dr Dapri says, 'At this year's Digestive Disease Week in Chicago, Dr Christopher Thompson and team in Brigham and Women's Hospital, at Harvard Medical School, Boston, presented promising results, with a reduction of the stomach diameter from 26.2 to 7.4 mm with the OverStitch system.'
There is also a system that works not with classical suturing but by using clips. With the Over-the-Scope-Clip-System (Ovesco; Fig.2d), the clip is delivered by means of an applicator cap mounted on the tip of a gastroscope. It is self-closing, firmly anchoring the tissue to be compressed for haemorrhage or closure of a wall lesion.
Dr Dapri knows of two other suturing devices in the research phase -- the Spiderman (Ethicon; Fig.2e) and the Flexible EndoStitch (Covidien; Fig.2f) -- that aim to tighten the stoma at the gastrojejunostomy and decrease the size of the gastric pouches. In the future, he believes both techniques could be deployed for primary suturing procedures, as well as for non-invasive revision interventions.
Although Dr Dapri is convinced that endoscopic procedures will shape the future of bariatric surgery, especially for the revision procedures, he thinks more mid- and long-term studies are needed in primary interventions because technical refinements are nowhere near complete. 'In a further step, I expect the development of robot-assisted gastroscopes and more flexible graspers to move even more precisely through the gastrointestinal system.'
Contact for further details: giovanni@dapri.net"