News • AI in cardiology
Cardiac ultrasound: Harnessing anatomical intelligence
A new cardiac ultrasound solution is harnessing the power of anatomical intelligence to offer greater diagnostic confidence to clinicians.
Report: Mark Nicholls
New EPIQ cardiac ultrasound solutions launched by Philips during the 2018 ESC Congress in Munich, have been designed to simplify workflow The CVx platform which, the firm reports, includes higher processing power, improved image clarity and sharpness, and more reproducible quantification, embraces anatomical intelligence – effectively Artificial Intelligence – to tailor the machine learning model to meet the needs of cardiology practice. Philips has also introduced the EPIQ CVxi, enhanced for use in the intervention lab.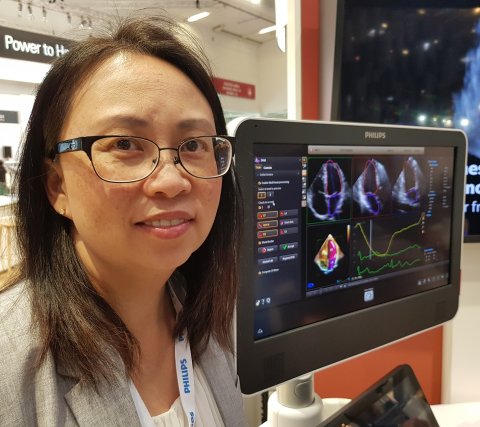 At the congress Bich Le, Philips' Ultrasound Business Leader, outlined the key features of the new system. 'The EPIQ CVx Dynamic Heart Model uses anatomical intelligence to automatically quantify left ventricle function to produce a multi-beat analysis for adult patients. It is basically a 3-D anatomical model, created through data and inputs and machine learned application that is then used to develop a static algorithm that is applicable for cardiology. It combines 3-D organ modelling, image slicing, and proven quantification to help make ultrasound exams easier to perform and more reproducible. It's already providing clinicians with sophisticated, yet easy-to-use processing tools, and helping them quickly and more confidently identify anatomy and anomalies, assess disease states, determine treatment, and guide interventions.'
One of the benefits of the dynamic heart model is that the user can view up to five beats and see how the heart rhythm really looks over multiple beats, highlight motion defects and helping the cardiologist quantify them. Philips also report that the Dynamic Heart Model can reduce the amount of time to generate a 3-D Ejection Fraction, a key measurement in determining how well the heart is pumping out blood, by 83%.
Photorealistic cardiac renderings
The system uses anatomical structural information using live ultrasound combined with X-ray to guide that structural heart procedure

Bich Le
A second feature is the True-Vue visualisation tool, giving clinicians the ability to see photorealistic renderings of the heart, which improves cardiac anatomy analysis by offering detailed tissue and depth perception imaging through a new virtual light source. 'That creates an improved depth perception, and helps, for example, if you are looking at mitral valve function and being able to more easily visualise that,' Biche Le added. With high image quality the monitor provides a dynamic, wider viewing angle for side-by-side image comparison.
Le pointed out that the xPlane feature benefits the radiographer/cardiologist in terms of the acoustic window, particularly in more challenging patients. She also pointed to the EchoNavigator on the CVxi platform as an example of a partnership between the manufacturer's ultrasound and IGT (image guided therapy) arms. 'It's similar to the Dynamic Heart Model. The system uses anatomical structural information using live ultrasound combined with X-ray to guide that structural heart procedure. It's all about visualisation, quantification.'
EchoNavigator helps interventional cardiologists oversee procedures along with the location of key anatomical structures. In addition, MultiVue provides more flexibility when using 3-D during diagnostic or interventional procedures, because the clinician can see multiple and flexible views at once.
Recommended article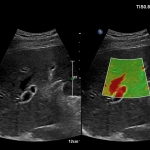 Article • Ultrasound
NEW: Evolution 3.0 EPIQ ultrasound upgrade offers high-res PureWave crystal transducer technology, shear wave elastography, contrast enhanced ultrasound, and image fusion. Could you ask for more?
Simplifying workflow
The platform, Le explained, was designed to be tailored to a cardiologist's preferences. The EPIQ CVx, for example, includes a cardiology-specific user interface that simplifies the exam experience through a user-configurable touch-screen interface, allowing clinicians to personalise their controls and improve workflow for their cardiology exams. The transducer is designed to work for a range of patients, from the obese, atrial fibrillation cases and those with narrow spacing between the ribs.
At ESC 2018, Philips also introduced its Interventional Haemodynamic system, which includes a patient monitoring device mounted at the table-side and a workstation in the control room with a user interface designed to simplify haemodynamic monitoring and assessment.
More on the subject:More on companies: