Article • Ultrasound
New features complete Philips solution for liver assessment
NEW: Evolution 3.0 EPIQ ultrasound upgrade offers high-res PureWave crystal transducer technology, shear wave elastography, contrast enhanced ultrasound, and image fusion. Could you ask for more?
Philips has released the EPIQ Evolution 3.0, an upgrade to its range of high-end ultrasound scanners – and a device that combines a number of innovative technologies to improve image quality and processing. Professor Dirk-André Clevert, head of the Interdisciplinary Ultrasound Centre at Munich University Hospital, explains what sets this new system apart from any competition.
Asked why the specific focus in development of the EPIQ-platform was liver imaging, he pointed out that the liver is the largest and central metabolic organ, with many pathological processes manifesting within it. 'This applies primarily to tumour metastasisation but also to parenchymal changes other than liver cancer, such as fibrosis or cirrhosis. The liver is therefore an organ of great interest to all medical disciplines for oncological, inflammatory, vascular and parenchymal questions.'
What does Evolution 3.0 mean in this context?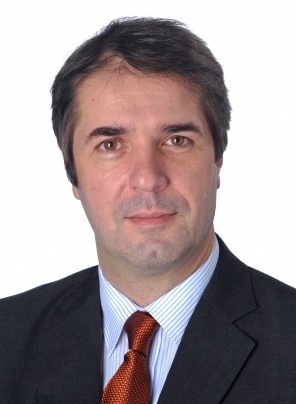 'The special feature is the combination of different advanced elements in one system: high resolution PureWave crystal technology, shear wave elastography technology (ElastQ Imaging), contrast enhanced ultrasound (CEUS) and image fusion. This covers all four mainstays of liver imaging.
'The first is image quality, i.e. the B-mode image, which diagnosis hinges on, and for which we require high resolution transducers that can detect even the smallest, deep-lying lesions. Newly developed data processing algorithms additionally ensure fast image reconstruction.
'The second mainstay is contrast enhanced ultrasound, because only the use of contrast media enables us to fully utilise the diagnostic relevance of ultrasound images. The system offers high frequency transducers, providing optimal resolution with sufficient depth of penetration, which can additionally be combined with contrast-enhanced ultrasound.
'Elastography is the third mainstay. ElastQ Imaging is a colour coded, quantitative measuring system to evaluate tissue elasticity in real-time. Rigidity measurements indicate potentially pathological changes not yet visible on the B-mode image, and whether the tissue is becoming softer or harder after treatment. Image fusion is the fourth mainstay. This procedure can sonographically detect pathological changes seen on CT or MRI scans and can substantiate a firm diagnosis.'
Other medical device manufacturers offer Ultrasound/CT/MRI image fusion. Does EPIQ have unique capabilities?
'The platform offers a large range of transducers, with three different transducers available for abdominal scanning alone. This choice of transducers makes it possible to utilise the technology developed for the liver for other applications and organs as well. For patients with acute stroke, CT and ultrasound data can be fused to check for any severe brain damage, and for patients with prostate cancer it facilitates precise positioning of lesions detected on the MRI scan to help carry out biopsies.
'This means that the technology promotes the interdisciplinary utilisation of image data that would otherwise go to waste. Instead, doctors can feed radiological image data into their systems and use it for progress monitoring. Viewing a CT or MRI scan next to an ultrasound scan makes it possible to track whether a lesion has become smaller, larger or has remained the same over longer periods of time.'
Which trump cards does the new shear wave elastography offer?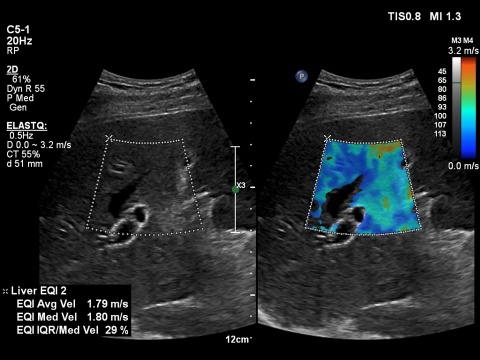 'This technology is primarily used on the curved array transducer. The large measurement window makes it possible not only to view and measure partial liver segments but also larger areas of the parenchyma.
'Along with colour coding, which indicates whether tissue is hard or soft, a mean numerical value can also be determined. This can be used to monitor treatment and see whether the values are changing. The system edits the data and converts it directly into a structured patient report, which simply needs to be printed.
'Another special feature is the ability to acquire more data within the field of view during post-processing, in addition to the data sets already stored. This means that specific smaller, partial segments of interest, within a larger field of view, can be evaluated and documented later on.
'The system also makes a so-called confidence map available during the examination, which indicates the quality of the signal by colour: green means high, yellow means moderate and red means low. It's therefore always possible to get the best out of the images.'
PROFILE:
Professor Dirk-André Clevert MD heads the Interdisciplinary Ultrasound Centre at Munich University Hospital (founded in 2004), where all ultrasound activities in the hospital converge. He is also head of the Radiology Section of the German Society for Ultrasound in Medicine. As course director and president, Clevert organises numerous national and international ultrasound courses and congresses. On the 80th anniversary of the founding of the Medical Faculty at Tbilisi State Medical University, the professor, as head of the Interdisciplinary Ultrasound Centre, received an honorary doctorate.
More on the subject:
More on companies: