Bringing contrast into play
The role of CEUS in ultrasound-guided intervention
Although many new features in US-guided interventions are being marketed, which are really necessary, which just nice-to-have? It's a question to be faced by experts during the refresher course 'Interventional ultrasound' at WFUMB 2011.
One of the most established ultrasound techniques in minimally invasive procedures is contrast enhanced ultrasound (CEUS) – a tool that is safe, gentle and also cost-effective – as long as the user is qualified for the job, says EFSUMB president Christian P Nolsøe MD PhD, Consultant in the ultrasound section at the surgery division of the gastroenterology department at Herlev Hospital, University of Copenhagen, Denmark. He is also one of this year's three congress WFSUMB presidents. In our interview, he discussed the advantages of CEUS in US-guided interventions and the importance of radiography meeting particular quality criteria.*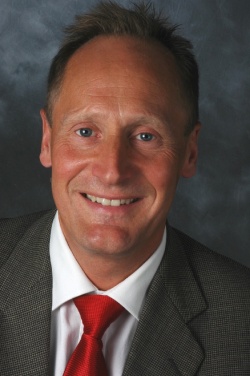 'Ultrasound,' Dr Christian Nolsøe pointed out, 'is a very mobile technique that allows for a combination of clinical examination and diagnostic imaging at the patient's bedside. It is what the stethoscope was in the old days. That makes it very suitable for interventions – in my opinion more than CT or MRI, because the patient is more accessible during examination than when lying in a tube. Another advantage is the flexibility of the angle that can be visualised with ultrasound. For example, when you take a liver biopsy and the lesion is difficult to access with CT, you can create any angle you want with ultrasound. On the other hand, even if you're unable to visualise a lesion with ultrasound, you can fuse ultrasound with a CT scan to visualise lesions clearly during biopsy.
'Contrast agents come into play because they provide better images on the ultrasound machine. The micro bubbles are so small (3-5 µm) that they find their way into the smallest blood vessels, where they improve the ability to differentiate between normal and abnormal tissue. By this means, they also simplify the precise navigation of ablation or biopsy needles during an intervention,' he continued. 'Moreover, ultrasound contrast agents are extremely well-tolerated. Directly after the ablation, CEUS is also a very helpful control, if therapy was successful or if the ablation needs to be continued during the same session.
'In addition, CEUS is called into action for follow-up studies. In my hospital we monitor our patients who had liver metastasis ablation continuously for five years by doing a regular CT scan plus CEUS to check for signs of metastasis recurrence. But,' he cautioned, 'what remains important to emphasise is that an essential condition for using CEUS is the qualification of the operator who performs it.'
Qualification is vital
Why? 'Ultrasound is very dependent on the operator,' Dr Nolsøe emphasised. 'While in CT or MRI a technician acquires the scans and afterwards a medical specialist will make the diagnosis, in ultrasound the operator is both technician and diagnostician. So, if you put ultrasound in the hands of an inexperienced doctor, he might not be able to generate adequate images.
Besides, even though ultrasound is basically not harmful, if you put it in the hands of a non-skilled person this could lead to a false-positive or false-negative diagnosis. So, to me it doesn't matter what job title the operator holds as long as he is an expert. In interventional treatment this would always be a medical doctor. But when we talk about medical scanning, in countries like Denmark, England or Australia, this is often undertaken by a radiographer (sonographer). So I'd wish for a kind of driver's license for every ultrasound user to ensure they have the right education and training for radiography.'
New microbubbles
'The most promising in the diagnosis of hepatocellular carcinoma is probably Sonazoid (GE Healthcare), which is already approved in Japan. It has an additionally third or late phase. While conventional contrast agents are cleared out of the liver blood circulation in about 10 minutes, Sonazoid is taken up by the Kupffer cells for about 30 minutes,' he explained. 'Because lesions do not contain Kupffer cells, they stand out more clearly in this late phase.
'There is also exciting experimental research going on in the field of targeted chemotherapy. The idea is to equip the bubbles with antibodies that connect themselves with the antigens located on the cancer cell. If ultrasonic waves from an ultrasound machine are now raised to their peak, the bubbles will burst and the chemotherapeutical drug will be directly delivered into the tumour. But, this is still pie in the sky and it will need a lot of engagement by the industry to achieve R&D progress here. An obstacle is that most of the companies are scared away by the big players in this field, so there is little competition. Nevertheless,' he said optimistically, 'I do believe that CEUS really has the potential to revolutionise cancer treatment.'

Christian Nolsoe
Christian Nolsøe MD PhD is President of the European Federation of Societies for Ultrasound in Medicine and Biology (EFSUMB) and Past-President of the Danish Society of Diagnostic Ultrasound (DSDU).
In 1991, he was honorary secretary of the 6th WFUMB world congress held in Copenhagen, Denmark. As a radiologist, his subspecialty is ultrasound; his PhD was gained for image-guided tissue ablation.
He is a consultant in the Ultrasound section in the surgery division at the gastroenterology department at Herlev Hospital, University of Copenhagen.
Areas of interest: Interventional and surgical US, tissue ablation, US contrast, Doppler, musculoskeletal US, 3-D and new techniques.
He has been an honorary member of ASUM since 2006.