Staying on the right side of the law
High flexibility and live conditions contribute towards the high popularity of image-guided interventions, now performed under ultrasound control in 80-90% of cases. However, although minimally-invasive examinations are based on high standards of medical safety, complications can arise that could ultimately lead to litigation. Thus, experienced ultrasound operators would be wise to know the legalities governing their work, according to radiologist Dr Karl-Peter Jungius, at the X-ray Institute Schwyz in Switzerland.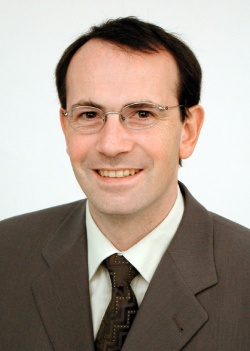 In most medical litigation cases where a doctor has been found guilty the problem is not so much an error in treatment but a lack of prior information and advice for the patient. From the point of view, each medical intervention on a patient's body is classed as an assault, which, in the first instance, requires the verbal agreement of an of-age patient -- except for some life-threatening exceptions.
This underlines why it is vital to inform a patient sufficiently about the potential complication risks before an intervention. Risks include bleeding and infections, although Dr Jungius points out that the risk of infection with ultrasound-guided interventions, which need only very small puncture wounds, under sterile conditions, is only about 1%.
However, he reports that an international comparison showed that sterile conditions can vary significantly: 'For instance, I know that in the US the puncture area for fine needle aspiration is covered in a much more complex way than in Europe. We tend to sterilise the area and then insert the probe and cannula in such a way that they do not touch one another. I think the litigation culture and high likelihood of being awarded damages in the US plays a significant part here. For the same reason, patient briefings in the US are much more structured and comprehensive than on this side of the Atlantic Ocean.'
How comprehensively a doctor informs his patients about the potential risk of complications very much depends on the type of intervention to be carried out. In the case of fine needle aspirations, which are carried out with hollow needles of a < 1mm diameter, complications are rare. However, obtaining the patient's written agreement is still advisable. Initially the patient needs to complete a questionnaire. The doctor then explains the procedure and answers any further questions the patient may have; often he may also add additional remarks to the questionnaire. Then the intervention is usually carried out on the same day.
Punch biopsies and the insertion of drainage catheters are a little more complex. The calibre of the cannula or the catheter respectively, are > 1mm. With this type of ultrasound-guided intervention there should be at least a 24-hour period between patient briefing and intervention.
'In two to four percent of cases a local haematoma might develop after the intervention. However, the risk of bleeding, depending on the organ, is only one to two percent,' Dr Jungius said. 'For example, the risk of bleeding is somewhat higher for liver biopsies than kidney biopsies. In our Institute, based on all the invasive procedures we carry out, we see severe bleeding two or three times a year. To lower the risk of this occurring it's important to obtain as much information as possible about a patient's blood clotting status, that is, to find out if a patient is taking certain types of medication; if required the procedure can then be adapted to the respective situation.'
Additionally, after punch biopsies of the chest or the lungs a pneumothorax can develop, so it is also important to inform patients about this specific complication and its effects. If pneumothorax occurs, a large drainage catheter may have to be inserted and the patient may be admitted on the ward.
'The largest cannulae for intervention (7G) are used for vacuum-assisted breast biopsies. This can often lead to the development of haematomas,' Dr Jungius pointed out. 'With vacuum-assisted core biopsies there's also a risk of the haematoma becoming infected and then having to be surgically treated. Although this has never happened in our Institute, we still have to inform patients about all eventualities.'
The documentation of an intervention strongly depends on the specific intervention to be carried out. For example, Dr Jungius said that, just before a kidney biopsy, and ultrasound scan of the kidney and bladder is performed, to confirm that there are no pathological findings. 'If, for instance, we find blood clots in the bladder during such a scan, we know it cannot be the result of the biopsy. We then carry out another ultrasound 15 to 20 minutes after the intervention and document the images. The patient is then clinically monitored for six hours and a third ultrasound scan is carried out. If bleeding can be detected, further treatment will then be very individually customised. As standard, we would carry out a haemoglobin determination and possibly a CT scan.'
Apart from following each country's specific legal framework, doctors can refer to the Good Practice Guidelines for Interventions compiled by the European X-Ray Association. These not only form an important orientation aid for ultrasound users, but often also for the legislator and the law.
How to carry out a correct patient briefing, which criteria are important when preparing patients and what to do if, despite all precautions, litigation occurs are topics Dr Jungius will talk about, including many practical tips and examples, during his WFUMB lecture*. From this, he hopes '…that participants will come away with a kind of "recipe" for each type of ultrasound-guided intervention, which they can then successfully utilise in their daily routine'.

"US-guided interventions", Saturday, August 27, 08:30-10:00, Hall LM

Karl-Peter Jungius
Following his medical studies at the universities of Mainz, Rotterdam and Heidelberg, Dr Karl-Peter Jungius, 46, worked at radiology institutes in Germany and Switzerland and completed various residencies, including in the USA.
Since 2005 he has served as President of the Radiology Section at the Swiss Association for Ultrasound in Medicine and, since 2007, has worked at the X-Ray Institute Schwyz.
Apart from image-guided interventions, he lists his key fields as breast and vascular diagnostics, emergency radiology and nuclear medicine