Article • Supplemental imaging
The next breast screening advancement: Contrast-enhanced mammography
With the recent recommendation changes from the European Council in 2022, how radiologists screen for breast cancer is changing.
By Dr. Christian Stoeckigt, Head of Scientific Affairs & Medical Education, Hologic
Mammography has long been an essential technology in screening for breast cancer, and in the recommendations the Council formally recognized the advantages of digital breast tomosynthesis (DBT). This landmark acknowledges the research on and benefits of DBT, advocating that all women—not just those with dense breast tissue—will benefit from it.
In addition to DBT, the recommendation also calls for the use of breast MRI, where appropriate, to supplement a mammogram. However, there are limitations to MRI for breast cancer screening, as it can be a time-consuming process to schedule the appointment and undergo imaging. With the recognition of DBT as the mammography standard for breast cancer screenings, there comes another option for supplemental imaging: contrast-enhanced mammography (CEM).
CEM utilizes the same contrast agent as computed tomography (CT) technology to help identify lesions in breast tissue. Using the same physical imaging principles as CT and MRI, the contrast agent moves throughout the breast tissue via blood flow and accumulates where lesions are forming and growing. The result is a highlighted area that stands out against the breast tissue and has been shown to provide physiological data, in addition to the standard morphological images, that can be useful for diagnosis.
Elevate breast imaging
A component of the European Council recommendation was the 2021 European Commission Initiative on Breast Cancer (ECIBC) guidance that women with dense breast tissue could benefit from the use of DBT when paired with digital mammography. As a superior imaging system, DBT has been shown to detect up to 65% more invasive cancers than a 2D mammogram alone1, and to reduce false positive rates compared to full field digital mammography.2
Breast density, which is dependent on the amount of fibrous tissue present, is a known risk factor for breast cancer and appears white on a mammogram. Because of this, it can mask small cancers which similarly appear white, which can delay cancer detection. There are significant concerns that this could lead to cancers being detected in later stages when fewer treatment options are available. Contrast imaging is not adversely affected in dense breast tissue to the same degree as standard mammography. For women whose breast images produce inconclusive findings due to dense breast tissue, CEM can be an alternative for supplemental imaging instead of MRI.
Recommended article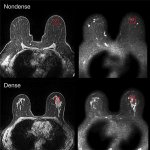 News • Possible biological explanation found
The risk of developing breast cancer is higher in breasts with high density. But why is that? Researchers at Linköping University have shown major biological differences that promote cancer growth.
Streamline the breast cancer journey
Time is a valuable commodity for radiologists and patients. However, CEM utilizes the best elements of MRI and mammography to help provide clear results in less time. Studies show that CEM and breast MRI both have comparably high sensitivity in the detection of breast lesions.3
One benefit to CEM compared to MRI is that there is no secondary system involved. Instead, CEM utilizes the existing DBT system at the clinic or hospital so it can be utilized for screenings throughout the breast cancer journey. This enables faster imaging procedures, as CEM can be done in the same location as mammography and focuses solely on breast imaging. Patients no longer need to wait the days or weeks for an MRI, which has competing procedures.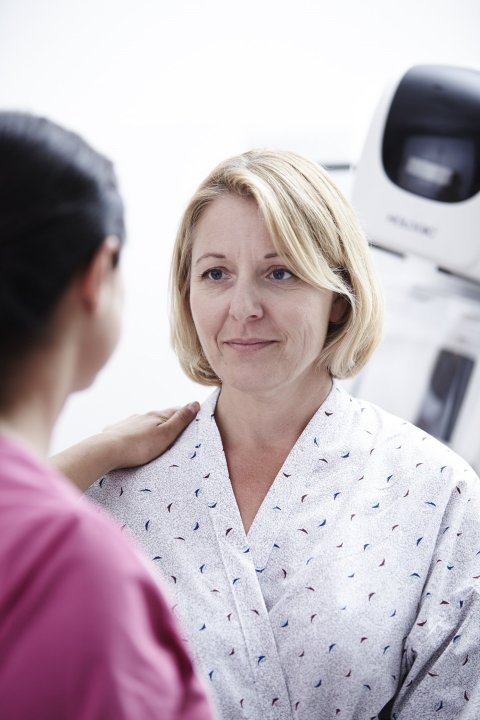 Additionally, since CEM utilizes the DBT system, it can offer a faster4 alternative to MRI5 without compromising the results—eight to 20 minutes of imaging time versus MRI's 30 to 60 minutes.6 This means that CEM can help alleviate the time burden of the imaging procedures without compromising image quality, because studies have shown it provides comparable diagnostic performance.7
With this mammography advancement, there is also the potential opportunity to utilize it with other procedures that rely on this modality. An example of this is biopsy. Once a lesion is discovered, CEM could help radiologists to improve biopsy procedures for lesions identified with the contrast agent. Contrast-enhanced biopsy enables radiologists to utilize CEM to identify and localize the lesion for a biopsy, which might be obscured on standard mammography alone. This technique will enable radiologists to locate the lesion within the breast tissue in the same way they would expect for CEM.
By pairing CEM with biopsy, radiologists can streamline their diagnostic workflow without waiting for other contrast modalities.
With the European Council's recommendation for DBT comes new possibilities in the breast screening industry, as technology continues to improve. CEM can be a lifesaving technology that delivers fast, high-resolution images for women whose lesions might otherwise be obscured. This new modality offers enhanced benefits to DBT, without the wait or expense of MRI—reducing or eliminating the limitations of both imaging techniques.
References:
Friedewald et al.: Breast cancer screening using tomosynthesis in combination with digital mammography; JAMA 2014; a multi-site (13), non-randomized, historical control study of 454,000 screening mammograms investigating the initial impact the introduction of the Hologic Selenia® Dimensions® on screening outcomes. Individual results may vary. The study found an average 41% increase and that 1.2 (95% CI: 0.8-1.6) additional invasive breast cancers per 1,000 screening exams were found in women receiving combined 2D FFDM and 3D™ mammograms acquired with the Hologic 3D Mammography™ System versus women receiving 2D FFDM mammograms only.
Destounis et al.: Screening for dense breasts: digital breast tomosynthesis; American Journal of Roentgenology 2015
Gelardi et al: Contrast-Enhanced Mammography versus Breast Magnetic Resonance Imaging: A Systematic Review and Meta-Analysis; Diagnostics (Basel) 2022
Hobbs et al.: Contrast-enhanced spectral mammography (CESM) and contrast enhanced MRI (CEMRI): Patient preference and tolerance; Journal of Medical Imaging and Radiation Oncology 2015
Patel et al.: Potential Cost Savings of Contrast-Enhanced Digital Mammography; AJR American Journal of Roentgenology 2017
More on the subject:
More on companies: