Breast MRI The (non-)beloved gold standard
Magnetic resonance imaging is a long-established, highquality and safe examination tool. Why, therefore, do German gynaecologists and radiologists question its value in breast cancer diagnoses? Indeed the question 'Breast MRI - yes or no?' has split the medical community. One ardent champion of breast MRI is Professor Christiane Kuhl MD, director of the diagnostic and interventional radiology clinic at Aachen University Hospital, who explains why she believes this is still the gold standard for the detection of early-stage breast cancer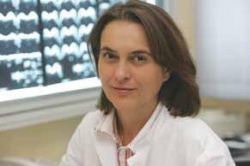 'In the past few years, even though there have not been any real technical advances that improve breast cancer diagnostics, MRI is still the best method to detect breast cancer – including those lesions that mammography and/ or ultrasound do not detect,' explained Professor Christiane Kuhl, whose experience at Aachen University Hospital is that well produced breast MRI will convince even the most sceptical physician. 'Within a very short time at our institution MRI was able to change the hearts and minds of many colleagues although the technology is more expensive than other options. The results of MRI speak for themselves. They do not need advertising.'
Not everyone in Europe shares this opinion as two recent studies, conducted in the Netherlands and Great Britain, show. Both aiming to improve pre-surgical staging, they arrived at the conclusion that MRI does not enhance surgical planning but seems to lead to an increase in mastectomies. Prof. Kuhl begs to differ. 'One explanation for this rather surprising result may be the fact that, at many institutions that participated in the study, breast MRI had previously rarely, if at all, been used for surgical planning. Thus MR-guided biopsies were not available. Obviously surgical planning cannot be improved if the MRI findings cannot be histologically assessed.' She calls it 'scandalous' that in the participating centres 'mastectomies were performed without histological confirmation – on suspicion, so to speak. In Germany, that is inconceivable and even illegal'. The studies' conclusions that breast MRI increases the rate of mastectomies is, Prof. Kuhl believes, 'with all due respect – complete nonsense'.
Without a doubt, she concedes, all imaging modalities have their blind spots; however, they are of different sizes and in different locations. Those blind spots can be offset with the help of other modalities. 'When you have been working with all three imaging modalities – ultrasound, mammography and MRI – for years you gain a very clear idea which modality is superior when, how and why. You also can say precisely why, in a certain clinical situation, you can rely on one modality but not on the other, even though the other one might be your favourite modality. You know when for example you'd better stick to mammography.' The expert is also convinced that, particularly in breast diagnostics, too many scientifically unfounded methods are introduced only to disappear as quickly as they appeared. Case in point: impedance tomography and sestamibi breast scintigraphy, two technologies that enjoyed a short boom in the mid and late 1990s but sank into oblivion. 'Today tomosynthesis, shearwave elastography, contrast-enhanced digital mammography and positron emission mammography are the flavours of the week.'
However, research results quickly show the limitations. As far as positron emission mammography (PEM) is concerned, studies in the USA have shown good results but also made abundantly clear that PEM can only visualise function and metabolism, but not morphology. 'The observation that PEM has a higher specificity can be explained by the fact that it is easier to interpret and facilitates the recommendation of a biopsy.' Whether PEM indeed improves the diagnosis and saves lives remains to be seen, the professor points out, since indeed, because of the modality's higher specificity, it may well be that women are denied lifesaving surgery. There is also cause for optimism with regard to the use of MRI in breast cancer diagnostics: any new method is and will be compared to MRI. 'Even tomosynthesis results are compared to MRI results. That is the mark of approval for this modality, the acknowledgement that, despite all scepticism, MRI is the gold standard,' Prof. Kuhl confirms.
Within the past two years, she says, there have not been any real technical innovations in breast MRI. Additionally, despite all the ballyhoo surrounding image fusion, clinically usable methods are not in sight for breast MRI. 'Breast MRI is performed with the patient in prone position, for ultrasound the patient lies flat on her back and for mammography the breast is compressed with the patient standing upright. Consequently, you get three entirely different configurations of the breast, which makes analysis of the findings of the three modalities extremely difficult.' One possible fusion, she suggests, is the combination of ultrasound during an MRI exam with the breast coil. However, in view of the enormous technical requirements and concomitant costs, Professor Kuhl does not consider this type of fusion to become a routine option in the short term.