Breast imaging
Over the decades of breast imaging numerous studies have shown that radiation free and inexpensive ultrasound can detect some subtle cancers not visible on a mammo­graphy exam.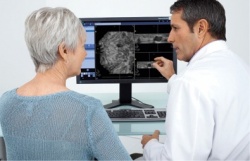 However, its use is time-consuming and skill- and operator-dependent – and for the latter reason, it is not easily reproducible.
Automated breast volume ultrasound systems are changing this, being less time-consuming and easily reproducible because they are independent of individual operators. They are designed to improve the conspicuity of cancers. This can result in better diagnosis and fewer false positives.
Automated breast ultrasound technology adoption has been stimulated by numerous studies proving that the use of ultrasound following mammography in dense breast women finds an average of four additional early stage breast cancers per 1,000 women than mammography alone. In the USA its adoption is surging in states whose governments legislate the reporting of breast density notification laws.
The SonoCiné Whole Breast Ultrasound System was the first product to receive 510-(k) clearance from the US Food and Drug Administration in 2008, for its use as an adjunct examination following mammography screening. Subsequently it received Health Canada Class 2 clearance and CE Mark approval.
In March 2010, Siemens Healthcare became the first company to receive CE Mark approval for an automated 3-D breast volume ultrasound scanner. (ABVS). A very early user, radiologist Dr Frank Stöblen, at the Diavero Diagnostic Centre in Essen, Germany, stated: 'this technology will play a major role in early detection'.
The automatically acquired, 3D volume images of the new breast scanner provide physicians with data about the entire breast. A typical examination takes less than 15 minutes, a considerably shorter period than when performing a manual ultrasound exam of the breast. The system acquires a coronal view, previously not available with conventional ultrasound systems. Coronal display of breast volume images provides an even better overview of the anatomy and architecture of breast tissue than earlier techniques. The 3-D images can now display the coronal view – from the nipple to the breast wall – in slices.
Additional to automated functions, the Acuson S2000 ABVS allows for all types of manually performed, conventional ultrasound examinations, e.g. biopsies and colour Doppler acquisitions, and elastography imaging with the Siemens eSieTouch. Last year, the firm introduced syngo ultrasound breast analysis software with image processing and reporting tools designed to enhance breast ultrasound quality and workflow. In addition to the S2000 ABVS, this is used with the Acuson S2000 ultrasound system.
In April 2012, U-Systems of Sunnyvale, CA, received pre-market FDA approval of its somo.v.ABUS Insight system and 510-k clearance in September. It also received the CE Mark and Canadian approval, according to GE Healthcare, which purchased the company in November 2012. The ABUS system is intended for use in dense breasts cases with negative X-ray mammography results and now previous invasive procedures.
When a somoVIEWer Advanced 3-D workstation is utilised for interpretation, 3-D volumes are displayed in a patented, two millimetre (mm) thin coronal view slice from skin to chest wall using proprietary pattern recognition software. According to U-Systems, experienced physicians can review a 3-D image set within three minutes or less.
One major drawback with automated 3-D ultrasound system is the time-consuming nature of reading images. Researchers from the Diagnostic Imaging Analysis Group in the radiology department at Radboud Nijmegen Medical Centre, in the Netherlands, are developing a computer-aided detection (CAD) system to identify suspicious lesions in automated 3-D breast ultrasound images. The prototype is being tested using images acquired from both the Siemens and U-Systems products.
'Reading ABUS screening exams is more time-consuming than reading mammograms. A CAD system may help minimise the workload impact that increased use of this modality will cause,' said biomedical engineer Tao Tan, a PhD candidate in the Diagnostic Imaging Analysis Group. Tan is part of the university team that participated in the Highly Accurate Breast Cancer Diagnosis (HAMAN) project on the automated detection of breast cancer in 3-D ultrasound.
The HAMAN project was coordinated by the European Institute for Biomedical Imaging Research (EIBIR) and, at the university, led by Dr Nico Karssemijer, professor of computer-aided diagnosis, who also headed the research of computer-assisted diagnosis software for mammography exams that commercialised as Image Checker from R2 Technology. This was the first successful mammo-CAD product, now sold with many later software version improvements by Hologic.
The ABUS-CAD software, said Tan, is still very much a work-in-progress, but the researchers hope that someday it will be used worldwide in conjunction with automated breast ultrasound systems. Forty to fifty percent of women have dense breasts. This tool might more easily and efficiently identify breast cancers that cannot be seen on even the best digital mammography images.