Breast imaging in 2025
Personalised molecular medicine will be delivered - Mark Nicholls reports
A leading radiologist is forecasting a 'paradigm shift' in breast imaging. Dr Peter Brader, from Department of Radiology, Division for Molecular and Gender Imaging, Medical University Vienna, envisages that diagnosis and treatment will move from a 'one size fits all' approach to one of personalised molecular medicine by 2025. He also foresees greater use of theranostics with combinations of targeted diagnostic and therapeutic agents that work sequentially or in tandem.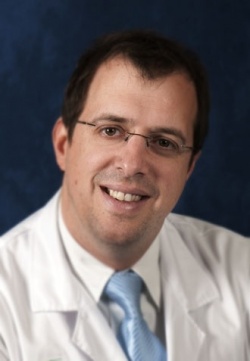 Future approaches to breast imaging will be explored during the ECR session Breast Imaging in 2025, when this, along with techniques that may come to the fore over the next decade and a half will be discussed. 'The use of more specific molecular imaging probes, along with high-throughput serum screening and biologically-targeted biopsies, will make it possible to apply a growing array of imaging, serum and tissue biomarkers to detect and characterise breast cancer,' Dr Brader explained. 'These will include: predictive biomarkers for identifying the relative sensitivity or resistance of a disease to a specific therapy, or identifying disease not in need of treatment; biomarkers for assessing treatment response earlier than is possible with conventional means, and prognostic biomarkers that provide information about the likely outcome, regardless of the specific treatment applied.'
Here, he added: 'Molecular imaging will make possible the increasing use of theranostics. The result is expected to be a paradigm shift from 'one size fits all' to personalised, molecular medicine.'
In his session, Dr Brader will look at the key role imaging plays in breast cancer and how medical imaging has experienced rapid technological development over the last few years and transformed radiology into an essential guiding hand of medical practice. 'In parallel with this,' he added, ' the rapid pace of biologic advances, such as the sequencing of the human genome, and the explosion of innovations in the field of proteinomics, have made this the age of molecular medicine.
'This recent and concomitant progress, in imaging in general, and in breast imaging in particular, has been facilitated by the convergence of molecular cell biology, pathology, chemistry, physics, and engineering in a multimodality and multidisciplinary way. Now, thanks to advances in molecular imaging, the radiology community has the chance to help lead a revolution in modern medicine toward optimised diagnosis and therapy of individual patients.'
But what might be different in the future will be the use of molecular imaging that will lead to 'a deeper understanding of the molecular basis of breast cancer' and could allow a more profound non-invasive characterisation of both benign and malignant lesions, with relevant implications on clinical practice.
Dr Brader believes the greatest challenge to meeting the demands of molecular medicine will be to recruit and train a cadre of young physicians with the drive and knowledge to become innovators and leaders in the field of molecular imaging.
In terms of equipment, he believes more hybrid imaging systems will be developed and introduced into clinical routine, such as PET/MRI, Optical/Tomosynthesis) to overcome the limitations of separate morphological and functional imaging techniques. 'The combined use could have widespread applications in breast cancer,' he pointed out.
Molecular imaging will, he said, play a major role, allowing clinicians not only to be able to determine the exact localisation of a disease or lesion, but also to show the expression and activity of specific molecules (proteases, kinases) and biological processes (apoptosis, angiogenesis, and metastasis), the behaviour of diseases and/or response to therapies.
Also at the session, Dr Martin J Yaffe, from the Departments of Medical Biophysics and Medical Imaging at the University of Toronto, will pose the question as to whether mammography will still be an accepted modality for breast imaging in 2025.
He will discuss the direction in which imaging is moving to make more use of biomarkers that might offer better specificity and sensitivity to the presence of disease as well as to characterise disease to guide the appropriate management.

Breast Imaging in 2025, chaired by Dr Thomas Helbich (Department of Radiology, University of Vienna). Saturday, 5 March. 14.00 to 17.30