Biomarkers: What can they tell us?
By Mary Black
Biomarkers are biochemical features or facets that can be used to measure the progress of disease or the effects of treatment.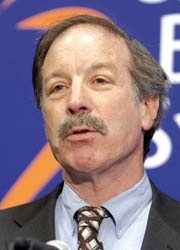 As cancer researchers move away from the general use of chemotherapy and into more targeted approaches, scientists are working to discover effective ways to measure response and risk. Although the use of biomarkers has the potential to guide preventive interventions and improve survival and quality of life, there have been few successes and many disappointments.
In December, data presented at the San Antonio Breast Cancer Symposium illustrate the cutting edge of biomarker discovery and development in breast cancer.
Jack Cuzick PhD suggested that a reduction in breast density of at least 10% may predict who benefits from the breast cancer preventive effects of tamoxifen. Researchers studied 1,063 women and found that those with reduced breast density after 12 to 18 months of treatment had a 52% reduced risk of breast cancer. By contrast, those women who did not have a decrease in breast density had only an 8% risk reduction.
According to Kathie Dalessandri MD, a new genetic model based on 22 single nucleotide polymorphisms may improve the ability to predict risk of developing breast cancer. Researchers found that in a high-risk population from Marin County, California, this model improved diagnostic accuracy by 51% compared to classic risk factors alone.
Chemotherapy treatment selection based on biomarkers may not yet be a valuable practice according to Angelo Di Leo MD PhD and his colleagues. Prior studies have suggested that HER2 and topoisomerase II (TOP2A) might predict sensitivity to particular chemotherapy agents. An interim analysis shows that HER2 and TOP2A have a clinically modest and statistically borderline predictive value.
Biomarkers remain a complex subject for investigation. The US National Breast Cancer Coalition Fund is comprised of consumers, clinicians, researchers, industry representatives and regulators. They have developed a set of principles and recommendations to guide the field and ensure that biomarker research results in clinically important applications. Biomarker research must be patient-centred; aim substantially to improve patient outcomes by accurately identifying those likely to benefit from specific interventions and sparing those who will probably not benefit from these interventions, and be conducted in an environment of social responsibility in which resources are shared as part of a social network.
Biomarkers are also integral to the search for vaccines, providing leads on targeting of diseased cells and also monitoring of treatment. Researchers at the Karmanos Cancer Institute, Wayne State University, Detroit, Michigan, are hoping that their new breast cancer vaccine will be effective in humans because, when tested on mice, it safely destroyed HER2-positive tumours, even those resistant to anti-HER2 drugs.
The story does not end there – as we identify more and more biomarkers they can tell us a lot, but that information still has to be triaged. Translational research is needed to efficiently and accurately validate the most promising preclinical and clinical biomarkers and ensure that their diagnostic or prognostic potential is rapidly adopted in the clinic.