Beckman Coulter Expands Drugs of Abuse Test
Beckman Coulter, Inc. has expanded its drugs of abuse test menu to include a DRI* Oxycodone Enzyme Immunoassay (OXYX). The assay is for the qualitative and semi-quantitative determination of oxycodone and its metabolite, oxymorphone, in human urine.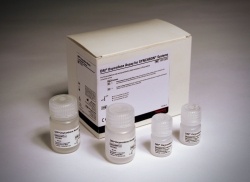 Reagents and calibrators for the DRI Oxycodone assay are liquid and ready-to-use, which eliminates the need for mixing, hydrating or pre-diluting reagents before testing. Drugs of Abuse Test (DAT) assays, available through Beckman Coulter, are specifically engineered, formulated and packaged to provide the critical elements of effective DAT analysis — speed, accuracy, ease-of-use and economy. When used in conjunction with Synchron® and UniCel® Clinical Chemistry Systems, these high quality assays provide timely, reliable and efficient DAT results.
About Oxycodone
Oxycodone is a semi-synthetic opioid prescribed for pain management in patients with moderate to severe pain. This narcotic pain reliever is similar to codeine and morphine in its analgesic properties, but is more potent than morphine and has greater potential for dependence. It is supplied as OxyContin* (Oxycodone HCI), or in combination with aspirin (Percodan*) or acetaminophen (Percocet*). The pills are often crushed into a powder and inhaled for a faster effect, which may result in a fatal outcome.

In addition to Oxycodone, Beckman Coulter's broad DAT menu includes: amphetamines, barbiturates, barbiturates serum tox, benzodiazapine, benzodiazepine serum tox, cannabinoid, cocaine metabolite, ecstasy, methadone, methaqualone, opiates, phencyclidine, propoxyphene and tricyclics serum tox. Beckman Coulter also provides a wide range of test panels for anaemia, autoimmune conditions, cardiac disease, diabetes, therapeutic drug monitoring, general chemistry, hepatic function, infectious diseases, inflammatory proteins, lipids, nutritional assessment, renal function, thyroid function, toxicology, and specialty and STAT testing.
DRI Oxycodone Enzyme Immunoassay (OXYX) is a User Defined Reagent (UDR), manufactured by Thermo Fisher Scientific and distributed by Beckman Coulter, as part of its broad menu of automated chemistry assays.
More on the subject:
More on companies: