Tomosynthesis
Additional cancer screening for women with dense breasts
Italian-led research has highlighted the value of utilising additional screening technologies to help diagnose breast cancer in some women. Interim analysis from the Adjunct Screening with Tomosynthesis or Ultrasound in Women with Mammography-Negative Dense Breasts (ASTOUND) study has delivered evidence of the potential benefit of adding either ultrasound or tomosynthesis to standard mammograms for screening women with dense breasts.
Report: Mark Nicholls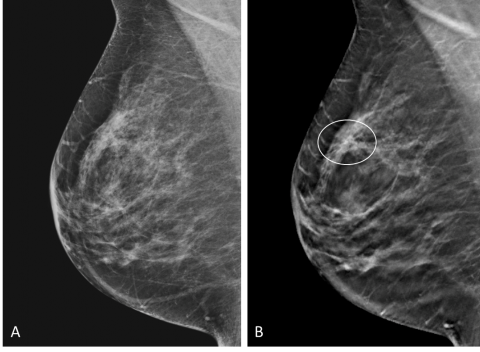 Heading the team of researchers, radiologist Dr Alberto Tagliafico, Assistant Professor of Human Anatomy at the University of Genoa, Italy, explained that interim analysis showed that ultrasound had better incremental breast cancer detection than tomosynthesis in mammography-negative dense breasts at a similar FP-recall (false positive) rate.
However, he pointed out that future application of adjunct screening should consider that tomosynthesis detected more than fifty percent of the additional breast cancers in these women and could potentially be the primary screening modality. It is the first time the addition of ultrasound or tomosynthesis – which can detect breast cancer in mammography-negative dense breasts – have been directly compared when added to standard mammograms in prospective trials and comes at a time of on-going debate on screening in women with dense breasts.
For the prospective multicentre study, eligible women had tomosynthesis and physician-performed ultrasound with independent interpretation of adjunct imaging. Outcome measures included cancer detection rate (CDR), the number of false-positive recalls, and incremental CDR for each modality. Tagliafico said that, among 3,231 with dense breasts where standard mammograms had not detected any cancer, 24 additional breast cancers were detected.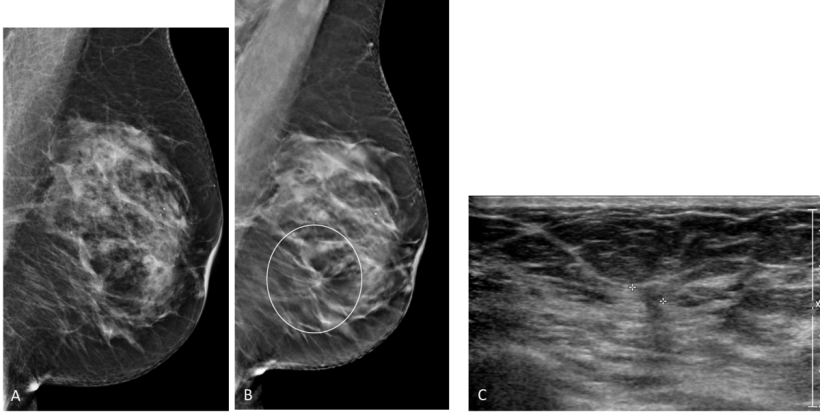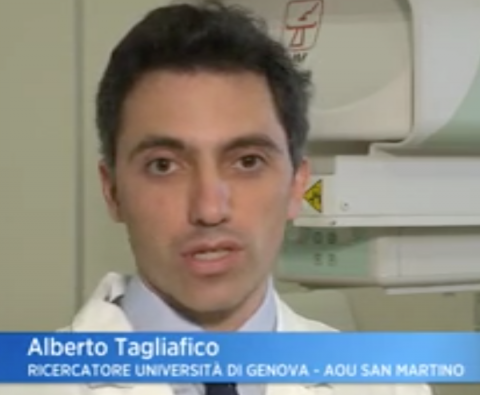 Results published
The findings were presented at the 10th European Breast Cancer Conference (EBCC-10) in Amsterdam and published in the Journal of Clinical Oncology. 'Dense breast tissue, where there is a high amount of fibrous and glandular tissue in the breast, is not abnormal but makes it harder for standard mammography to detect any signs or other abnormalities that could be cancer,' Tagliafico said, adding: 'It also associated with a higher risk of developing breast cancer, for reasons that are not yet fully understood.'
Tagliafico said that although there were an additional 107 false positive recalls for further investigation they were shown to be false alarms on subsequent investigation and there was no difference in the additional false recall rate between tomosynthesis and ultrasound.
Nehmat Houssami, Professor of Public Health at the University of Sydney, who was also involved in the research with Genoa University's Tagliafico, commented that the findings would have 'immediate implications for both screening practice and for guiding new research in dense breasts. 'We have found that ultrasound does better than tomosynthesis,' the professor added, 'but ultrasound is a separate test, it is time-consuming and, in less experienced hands, it can lead to a lot of false alarms. 'However, tomosynthesis, which is a form of refined mammography, can be carried out as part of the standard two dimensional mammogram screening, or even instead of that method.'
'Given that tomosynthesis detected more than fifty percent of the additional breast cancers in these women, the implications are that tomosynthesis has the potential to become the primary mammography screening method – without the need for an extra screening procedure.' The researchers acknowledged that further research and cost analysis studies must be conducted before specific recommendations and guidelines could be issued or changes made to current screening practices.
Profile:
Assistant Professor of Human Anatomy at the University of Genoa, Alberto Tagliafico is also a member of the Euro­pean Society of Radiology, the European Society of Breast Imaging, and the Euro­pean Society of Musculoskeletal Radiology. His research interests lie primarily in musculoskeletal and breast radiology.