News • Certification
AI-fueled chest x-ray classifier gets CE mark
Spanish healthcare AI company QUIBIM announced that its AI-powered Chest X-Ray Classification tool has received CE certification. The company already obtained the class IIa CE mark earlier this year for the imaging biomarker analysis algorithms, the zero footprint DICOM viewer and the platform within the QUIBIM Precision platform, becoming the first Spanish firm to ever receive the clearance.
QUIBIM applies machine learning and image processing techniques to extract imaging biomarkers from medical images in order to assist radiologists and physicians in daily practice. With its AI-based chest x-ray classifier, QUIBIM helps to detect pathological findings that could go unreported due to the heavy workload of radiology departments.

"Our tool was designed to prioritize unreported, potentially pathological radiographs, to help radiologists be more efficient by focusing their efforts on studies that are more likely to have pathologies. We are sure this will have an impact in big healthcare systems," Angel Alberich-Bayarri, QUIBIM CEO and founder, explained.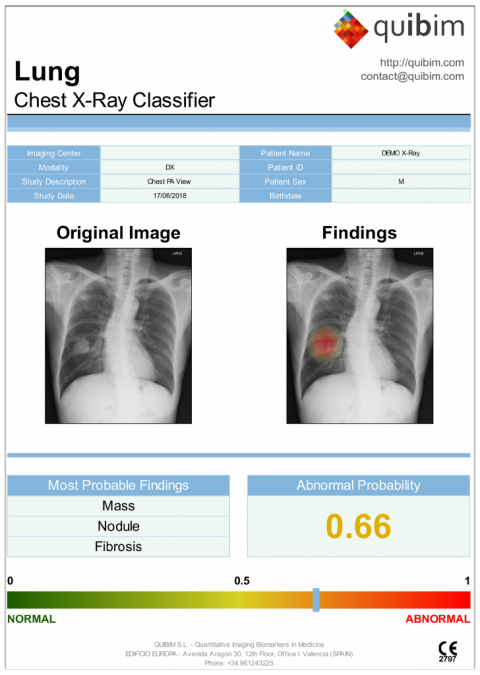 The solution makes use of a novel architecture based on referee networks combined with Convolutional Neural Networks that have been trained with a database of more than 500,000 images, to calculate the final probability of the X-Ray of being abnormal. Afterwards, the probabilities are used to estimate the presence of pathologies in chest X-Rays.

Because of this Artificial Intelligence methodology, the classifier understands the visual patterns that are most indicative of the different pathologies using the knowledge extracted from the large dataset of radiographs used to train the networks. "QUIBIM's Chest X-Ray Classification Tool is able to learn further using new images, which means that this system is continually improving and evolving with time," Rafael López, Artificial Intelligence Engineer at QUIBIM, said.

QUIBIM'S Chest X-Ray Analysis Tool is already available at QUIBIM Precision®, accessible through the cloud with just a few clicks or it can be fully integrated in the radiology department's workflow as a local solution for seamless interpretation of chest X-Rays.

Source: QUIBIM