A survey of dose levels in mammography in Swedish clinical practice
Breast cancer screening programmes are helping to reduce the mortality rates of women by finding cancer in its early stages when it is easier to treat. Sweden was one of the first countries in the world to introduce a screening program after succesful clinical trials in the 1980s. However x-ray radiation is also a risk factor for inducing breast cancer, meaning that a low radiation dose is important for screening as healthy women are exposed.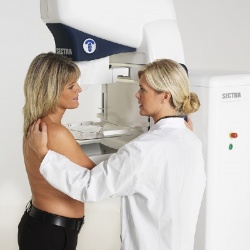 This white paper aims to give an overview of public data from the Swedish mammography screening program. It is based on a report from the Swedish Radiation Safety Authority and analyzes how the replacement of the old analog film-screen units by digital mammography equipment has affected dose levels.
Together with other published data, showing that Sectra MicroDose Mammography is at least as good at finding breast cancers as other systems on the market, the data published in this white paper clearly shows that Sectra MicroDose Mammography operates at approximately half the dose compared to other systems on the market. Even the newer systems from Siemens and Hologic such as Siemens Mammomat Inspiration use approximately twice the dose of Sectra.
Download and read the full white paper here
More on the subject:
More on companies: