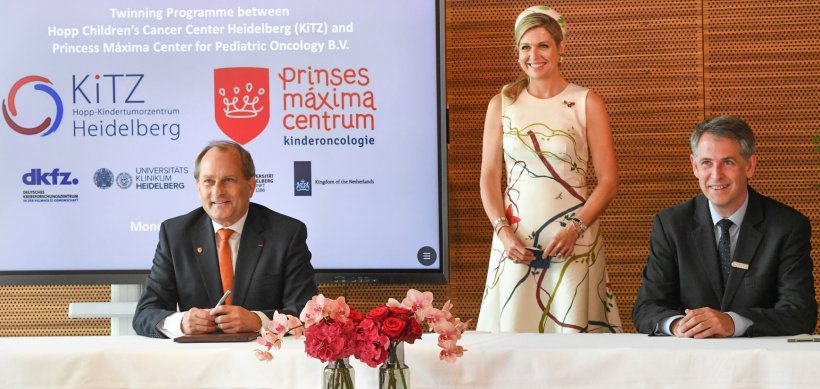 Image: Daniel Biskup / BILD / Ein Herz für Kinder
News • Pediatric oncology cooperation
A royal visit for children with cancer
Queen Máxima of the Netherlands, after whom the Princess Máxima Center for Pediatric Oncology in Utrecht is named, along with several representatives of the center, the Hopp Children's Cancer Center Heidelberg (KiTZ), University Hospital Heidelberg (UKHD) and the German Cancer Research Center (DKFZ), signed a memorandum on strategic cooperation in the field of pediatric oncology in Europe at the Dutch Embassy in Berlin.
Children with cancer still do not have the same treatment options as adults, and a fifth of young patients do not survive the disease. The research fund established by the KiTZ and the Princess Máxima Center is intended to boost European pediatric oncology research – to develop therapies with fewer side effects that are specifically tailored to children.
Queen Máxima welcomed the alliance between the two research centers, which aims to help children with cancer throughout Europe. She expressed her great confidence that the collaboration would prove successful and is therefore particularly pleased to be able to attend the signing ceremony.
Recommended article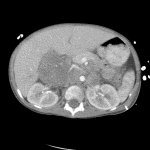 News • Malignant paediatric cancer
With two commercially available inhibitors, the cell cycle of the cancer cells in neuroblastomas can be disrupted at a key point causing tumour cell death. Neuroblastomas are malignant solid tumours that occur mainly in early childhood. Inhibiting the MYCN oncogene or its function could be a promising therapeutic opportunity.
Each year, 35,000 children and young people in Europe are diagnosed with cancer. Around a fifth of them cannot be cured with the standard therapies currently available, and more than 6,000 do not survive. This makes cancer the most common disease-related cause of death in children and young people, and it was recently identified by the European Parliament as one of the most important social challenges in European health care. The three directors of the Hopp Children's Cancer Center Heidelberg (KiTZ), Olaf Witt, Andreas Kulozik and Stefan Pfister from the German Cancer Research Center (DKFZ) and University Hospital Heidelberg (UKHD), also see an urgent need for action in this area: "Children have completely different tumors from adults and the cure rates have not improved much in the past 20 to 30 years. For this to change, we need a lot more research, networking and long-term funding."
The KiTZ in Heidelberg and the Princess Máxima Center in Utrecht are both regarded as important pediatric oncology research facilities in Europe, combining research and treatment under one roof, following the American model of Comprehensive Cancer Centers. They offer young patients across Europe and beyond access to molecular tumor analyses and clinical trials, thereby opening up new customized therapy options for them. "The KiTZ in Heidelberg and the Princess Máxima Center in Utrecht stand for the further development of modern, personalized cancer medicine for children – from research to diagnostics, treatment and comprehensive care," says Ingo Autenrieth, Chief Medical Director and Chairperson of University Hospital Heidelberg. "We see the collaboration between the two centers as exemplary for the future of medicine in Europe."
We will need a huge investment and effort right along the innovation chain – from lab to patient

Stefan Pfister
The importance of personalized diagnosis and therapy options for patients was demonstrated by former KiTZ patient Stefanie Mattern, who told her story at the start of the event. For years, she and her family thought she had a malignant glioblastoma, until a molecular diagnosis using cutting-edge methods showed that it was a benign tumor that just looked very aggressive under the microscope. "That gave me and my family a lot of our quality of life back and saved me additional, stressful treatments," said Stefanie, who is now 22 and is considered to be cured.
The aim of the research fund set up by the KiTZ and the Princess Máxima Center is to create better conditions for European pediatric oncology as quickly as possible, so that young patients across Europe can benefit from modern therapy and diagnostic approaches. The experts from both centers estimate that more than EUR 10 million will be needed to deal with the most urgent tasks. "If we really want to improve the treatment options for children with cancer compared with what has been available for the past 30 years, and speed up their development, we will need a huge investment and effort right along the innovation chain – from lab to patient," said Stefan Pfister, summarizing the challenges facing the project. This includes upgrading and expanding infrastructure, IT platforms, clinical trials and joint training programs for top scientists. Among other things, these platforms make it possible to share anonymized patient data for clinical trials. Childhood cancer is comparatively rare and it is only through pan-European networks that enough patients can be identified for accurate clinical trials. Other focus areas for the collaboration will be the development of modern immunotherapy and gene therapy treatment approaches for children, and the establishment of patient-specific lab models. With these models, tumors from individual patients can be imitated in the lab and tested in advance to assess their response to certain drugs.
"What we have in mind for this collaboration is truly unique," said Alexander Eggermont, Chief Scientific Officer of the Princess Máxima Center. "With our twinning program, we aim to build a high-caliber research infrastructure that will fuel completely new perspectives on childhood cancer. One in four children with cancer currently don't survive their disease. In order to secure the development of tomorrow's treatments for childhood cancer as fast as possible, we need to combine our strengths as two centers of excellence."
Michael Baumann, Chairman of the DKFZ, also emphasized the importance of the collaboration: "The alliance between the two centers is based on years of successful collaboration between the Princess Máxima Center, the KiTZ, the DKFZ and UKHD in the field of pediatric oncology research. In the Princess Máxima Center we have found the best possible partner for beating childhood cancer in the long term."
Source: Hopp Children's Cancer Center Heidelberg