A radically changing IT landscape
In a European Hospital interview,Jürgen Reyinger, General Manager, GE Healthcare Integrated IT Solutions, discussed the consolidation of the IT market and a boom in HIS and PACS sales throughout Europe
The mood at the International Forum for Healthcare IT (IteG 2006), held in Frankfurt, Germany, this May/June, indicated that this market is gaining momentum.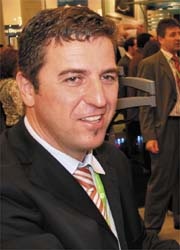 We asked Jürgen Reyinger whether he shares that impression.
JR: The HIS and PACS business is booming Europe-wide - at least as far as GE is concerned. France is lagging behind a bit, but otherwise there is noticeable movement all over. The development is incredible. Even Eastern Europe has seen major changes over the last three years, above all because they have to catch up in medical technology - but they have gained a lot of ground, particularly countries such as Poland, the Czech Republic, Hungary, even Russia. We receive interesting requests for RIS and especially PACS solutions, because the RIS business is mostly picked up by local and regional companies. These countries have interesting markets, even those in which we are already active. They are not yet comparable to Western Europe, but the signs are promising.
When talking about Western Europe we must differentiate between England and the Continent. England launched a National Health Service programme the National Programme for IT (NPfIT), which means over the next three or four years the entire British hospital landscape will become fully digitised. With this initiative, England will certainly move to the European forefront. It is quite remarkable that Tony Blair would invest more than six billion euros to push the digitisation of the healthcare system. This will carry many benefits for patients. Multiple admissions and examinations will be avoided, and the information pathways will become shorter and quicker.

RIS and PACS are obviously lucrative businesses, but what about the integration with HIS, as provided by, for example, Agfa with their Enterprise Solution, or Philips with iSite - an integration that seems to be increasingly demanded by hospitals?
JR: I don't quite see that customers demand such solutions. There was a phase, in the last two years, but currently we see more demand for best-of-breed solutions - PACS, RIS and solutions for clinical departments, such as critical care, anaesthesiology, cardiology or surgery. The hospitals return to best-of-breed, they no longer necessarily want a one-stop-shopping solution - because such a solution means that a hospital is completely dependent on one supplier with all the concomitant disadvantages, for example expensive upgrades, service and maintenance - not initially but in the course of years. Moreover, one single provider often means loss of service quality, because there is no competition that motivates the delivery of good or better service. A system change with such large projects is extremely expensive. These are all disadvantages for a hospital and its IT department. Therefore, we see a paradigm shift: the IT specialists increasingly turn to best-of-breed solutions. It is only with such an approach that clinically relevant solutions can be implemented that really optimise workflow, allow for paperless and filmless procedures and, above all, contribute to reducing the number of medical errors.
We meet more and more smart IT people who - when purchasing or upgrading their enterprise solution - negotiate prices for the future integration of best-of-breed solutions by third party suppliers. This happens because it has become obvious that providers of enterprise solutions regularly demand ridiculously high prices for interfaces, to push their own, often mediocre, department solutions, although there are internationally established standards such as IHE, DICOM or HL7.

Does GE offer a HIS?
JR: Due to the acquisition of IDX Systems last January, GE can now offer one of the worldwide leading HIS. Currently, this solution is available only in the USA, Great Britain, the Near-East and English-speaking countries in Asia, because it is an English-language solution.

Of course! The whole of administration - different European legalities, different names of pharmaceuticals, and so on, have to be taken into account. That's a real Sisyphean task.
JR: Right. It is very difficult to adapt HIS worldwide to the different market conditions. To a great extent, the different reimbursement systems are determined by national healthcare policies and regulations, for example the DRG in Germany. Each country has a different system for the billing and reimbursement of medical services. In clinical departments, that's not an issue. This has the advantage that we can offer our clinical solutions worldwide. Our healthcare IT solutions generate overall sales figures of about US$1.3 billion. This means we are among the top IT players.

What does the current consolidation of the IT market mean for GE?
JR: The consolidation primarily affects small companies that aren't viable, and their customers. That means hospitals and private radiology clinics will have a problem if they continue to buy from those companies. With the acquisition of Curagita Systemintegration, effective in June, GE can now provide radiology clinics with customised solutions that offer interesting value for money - and for customers this means they safeguard their investment by teaming up with a strong and competent industry partner. Moreover, analysis of the last two years in the healthcare market proves that GE has profited from the market consolidation and is stronger than ever – the case in point: diagnostic imaging and clinical devices – and this will also hold true for Healthcare IT.

This concerns your own consolidation, but what about consolidation in general, in other companies?
JR: GE will profit from the general healthcare IT consolidation and is positioned for further growth.

Will you benefit from the AGFA-GWI consolidation?
JR: Not directly. But many of our competitors are facing problems with post-merger integration or other problems, which prompts many hospitals to opt for our PACS rather than for one from our competitors. In the meantime, it is well known in all European markets that we not only offer a very good product, but also that we implement projects quickly and successfully. Where's the advantage for a customer to save €100,000 on a purchase price if, during implementation, additional costs of several €100,000 are incurred?

GE is primarily a manufacturer of large equipment. Where are the synergies between IT and large equipment?
JR: We offer a diverse portfolio ranging from large equipment to diagnostic imaging, bioscience, genome analysis and clinical services, be it ECG or anaesthesia equipment. In all these areas there are immense synergies with GE Healthcare IT. We witness an ever-growing demand for clinical solutions. One-stop shopping for applications is no longer up-to-date. After having implemented such an integrated solution a cardiologist might have the same system as the radiologist, and all the others, but what he doesn't have is a solution tailored to his individual needs and needs that enables him to perform his clinical tasks efficiently.
We benefit hugely from our clinical knowledge in medical technology. Take for example 3-D post-processing of images, which is becoming increasingly important. That means we need clinically relevant tools to post-process these images.
IT today faces very different challenges: How do we handle the immense data volumes produced by modern medical technology? Software used with modalities or with special 3-D workstations is entirely identical to that used on PACS workstations. And that's not only the case in radiology. It is also the case in the devices sector, in anaesthesia or intensive care. Our development teams co-operate very closely.
More on the subject:
More on companies: