A promising new breast cancer test
Winner of the BioRegions Innovation Prize to speak at Medica
The Innovation Prize for outstanding, application-oriented ideas in life sciences has been awarded by the Working Group of BioRegions at the Biotechnica in Hanover to research groups from Heidelberg, Munich and Ulm. Professor Lisa Wiesmüller, of the Women's Hospital, University of Ulm, received the €2,000 prize for developing a test system for the identification and early detection of breast cancer risk.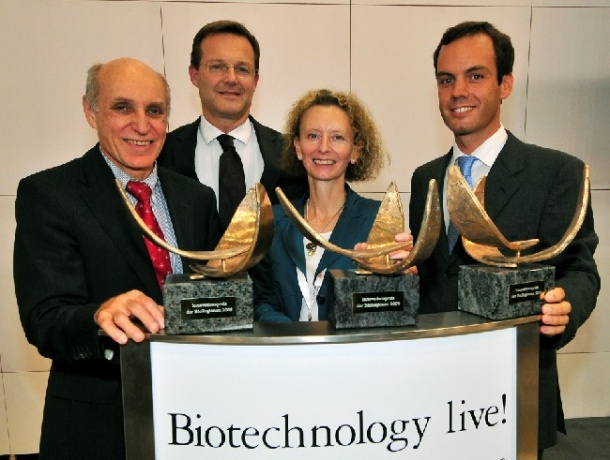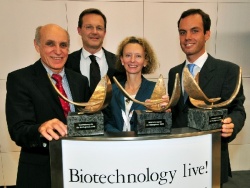 Further prizes were awarded to Dr-INg. Héctor Perea Saavedra (Munich), and to Professor Patrick Most and Professor Hugo A Katus et al. (Heidelberg).
The competition entries were submitted by research groups and individual scientists from all over Germany, from universities and non-university research institutes. A prerequisite for participation was that the ideas had to have already received patents, or that a patent had been applied for and that the applicants had not yet set up their own companies.
Better risk assessment
Prof. Wiesmüller has developed a new test system that qualitatively and quantitatively captures mutations with the help of fluorescence markers; this provides a significantly improved risk assessment. Thanks to the test, every patient receives an individual prediction as to whether they will respond to treatment. Members of families with an increased risk of developing breast cancer (e.g. those with a BRCA1- or BRCA2 mutation) are entitled to a more intensive preventive programme. As BRCA1- and BRCA2 mutations only account for 20-30% of the increased genetic risk, and the calculation of family risk will become more difficult in the future because of demographic developments, there is a need for alternative procedures on risk assessment.
Apart from BRCA1- and BRCA2 there are another eight known breast cancer risk-genes that are all components of the DNA double-strand break repair. In addition, small malfunctions in other genes can add up to a repair defect in a tumour. DNA double-strand break repair defects are therefore suitable for the identification of breast cancer susceptibility across the limits of bloodline analysis and genotyping.
Wiesmüller's novel fluorescence-based test system captures the DNA double-strand repair defects associated with breast cancer quantitatively and qualitatively. In fact, in a study sponsored by the Federal Ministry of Education and Research, the award winner and her working group have already demonstrated that a statistically highly significant increase of certain DNA double-strand break repair processes is evident in breast cancer patients and family members at high risk compared to healthy women of respective age.
The Prize
Organised by BioRegio STERN (Stuttgart), this was the third Innovation Prize awarded by the BioRegions in Germany. It recognises outstanding, application-oriented ideas from the world of life sciences. The Innovation Prize was awarded in cooperation with the Deutsche Messe AG, organisers of Biotechnica.
The BioRegions Working Group
The encouragement of young research talent, promotion of technology transfer and of start-up companies in the field are the most important objectives of the BioRegions Working Group, which also focuses on the external representation of the regions active in biotechnology.
Prof. Lisa Wiesmüller will discuss new approaches in translational research to predict breast cancer risk and therapeutic responsiveness at Medica International.
Wednesday 11.30 am – 1 pm: New challenges in breast cancer