Article • HR-CT
A fan of pattern analysis
Interstitial lung diseases (ILD) are rare – yet they are far more difficult to diagnose and highly variable. Professor Julien Dinkel, consultant at the Institute of Clinical Radiology, Ludwig Maximilian University Hospital in Munich, deals with these rarities.
Report: Sylvia Schulz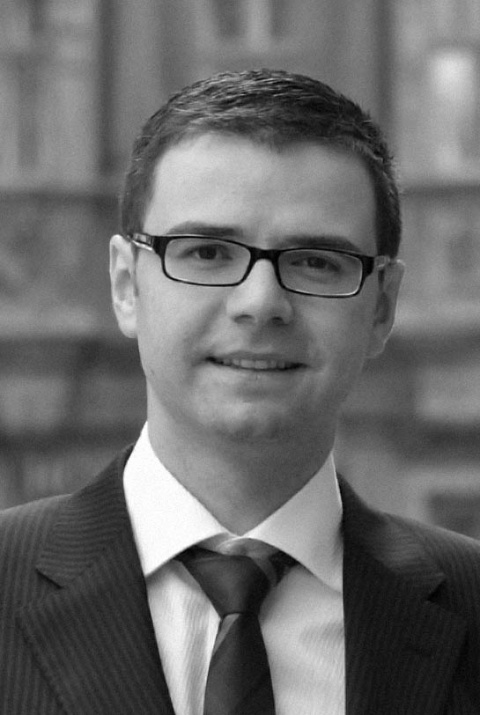 In October 2014, Dinkel was appointed as the newly created W2 Professor for Thoracic Imaging at the German Centre for Lung Research (DZL). 'There is a series of basic prerequisites to making a good differential diagnosis,' he emphasises. Those highly important prerequisites include clinical information provided by the referring pneumologist, he adds. Good teamwork is essential.
The second prerequisite is good technology. The technique used in this case involves HR-CT with very thin CT sections, high spatial resolution and the use of specific algorithms for image reconstruction. 'A section thickness of 1mm is almost always demanded in practice', Dinkel reports.
The radiologist particularly argues the case for acquisition of CT images both during inhalation and exhalation, because the examiner thereby obtains additional information to assess the pulmonary window and to reconstruct the core of the lungs. 'This is helpful, but not a must', he notes. Above all, there is no Europe-wide standard for the use of this method. 'One can obtain additional information on minor respiratory diseases; for example, whether bronchiolitis is present, which can be important for the differential diagnosis.'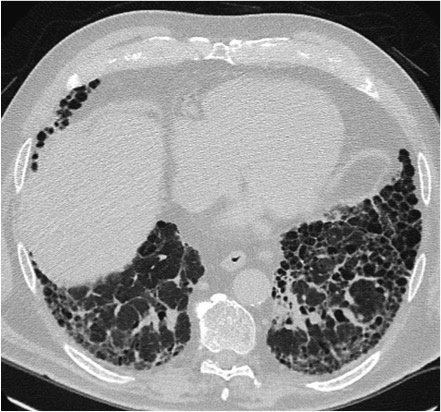 Knowledge of microanatomy – especially with reference to the secondary lobule – plays a decisive role in interstitial lung disease diagnosis. The secondary lobule is the smallest anatomical structure in the lung that is fully surrounded by connective tissue and has a diameter of 1-2.5 cm. 'There is no chance at all of producing any images without high-resolution CT,' Dinkel points out. Normally, only a few structures can be assessed in the secondary lobule, most of which become apparent due to pathologies.
The third prerequisite for a good diagnosis is structured diagnosis. 'I am the biggest fan of pattern-based analysis', Dinkel states, with enthusiasm. In structured diagnosis, the dominant pattern is identified using pattern analysis. In this process, the relationship to the secondary lobule and involvement of the lung must also be considered, and the primary disease and secondary findings must be diagnosed.
'Analysis of the HR-CT images is facilitated by consideration of four basic patterns: reticular and nodular patterns, cystic changes and densification of the lung parenchyma. Each pattern alone is not necessarily typical for a disease and they are commonly even present simultaneously. The dominant pattern, location and the clinical data are key to the diagnosis.'

Dinkel will report on reticular and cystic patterns in his ECR lecture. For example, reticular patterns are dominant in idiopathic pulmonary fibrosis, sometimes in NSIP (non-specific interstitial pneumonia), lymphangiosis carcinomatosa (LC) and in pulmonary-venous congestion. Purely cystic interstitial lung diseases, such as lymphangioleiomyomatosis or Langerhans cell histiocytosis, are recorded rather more rarely.
The professor is fully aware of the fact that some colleagues have other diagnostic preferences, some excluding the most common, whilst others the most dangerous diagnosis. 'People with lots of experience will not go through every single pattern systematically,' he points out. However, he recommends the 'safe approach' to those who are only rarely confronted with interstitial lung disease in practice. In such cases, however, a good differential diagnosis will only be possible at specialised centres.
Profile:
Professor Julien Dinkel MD studied medicine at Louis Pasteur University, Strasbourg and gained his doctorate in 2010 from the Ruprecht Karl University of Heidelberg, based on research entitled 'Four-dimensional multi-slice helical CT of the Lung: Qualitative comparison and reproducibility of small volumes in an ex vivo model'. Since October 2014 the consultant radiologist has been W2 Professor for Thoracic Imaging at the German Centre for Lung Research (DZL), LMU Munich.
ECR 2016 - Don't miss
Friday 4 March 8:30–10:00 am., Room D1
Low dose and no-dose chest imaging: opportunities and limitations (RC 904)