4-D imaging and Bio-System-Radiology
The Virtual Physiological Human
By Hans-Ulrich Kauczor MD PhD, Director and Chairman of Radiology at Heidleburg University Clinic, and radiologists Frederik Giesel MD MBA and Hendrik von Tengg-Kobligk MD of the German Cancer Research Centre in Heidleburg, Germany.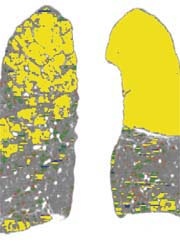 Today, biomedical research faces many challenges for which the traditional approach, based on the subdivision of biological systems, is inadequate. These artificial subdivisions are generally along dimensional scales (body, organ, tissue, cell, molecule), scientific disciplines (biology, physiology, medicine, bioengineering), or topographic anatomy (cardiovascular, musculoskeletal, gastrointestinal, etc.). They make it impossible to unravel the systemic nature that governs physical disease manifestations.
Thus, it is necessary to complement this traditional approach with an integrative approach to combine observations, theories and predictions across the temporal and dimensional scales, the scientific disciplines, and anatomy. This realisation, shared by the vast majority of experts in biomedical research, has given rise to a number of initiatives such as integrative biology, system biology, physiome, etc. However, most of these are still highly focused and require a general framework allowing experts from a variety of disciplines to work collaboratively to analyse their observations and develop systemic hypotheses. The Virtual Physiological Human (VPH) has been proposed as a methodological and technological framework to serve these needs. The VPH might be a way to share observations ('description'), to derive predictive hypotheses from them ('prediction'), and to integrate them into a constantly improving understanding of human physiology/pathology ('integration'), by regarding it as a single system.

What is the role of Radiology?

Radiology should play a major role in this integrative approach of the VPH, as imaging provides non-invasive insights into structure and function of human tissues and organs. With revolutionary technological developments during the last decade, radiology has grown far beyond visualisation of 2-D structures. Multi-slice CT and MRI, especially when using parallel imaging and higher field strength, record volumetric data at isotropic submillimetre spatial and subsecond temporal resolution. Together with the assessment of function, such as molecular imaging e.g. by PET, diffusion-weighted MRI or dual energy CT, multidimensional, so-called 4-D imaging has become reality. With 4-D imaging dynamic processes are observed and analysed, e.g. dynamic cine imaging of the beating heart or the breathing lung and also the moving liver during respiration and the subsequent deformation. When using contrast agents and imaging with high temporal resolution, tissue and organ perfusion are easily addressed. Another major advantage of radiology is its capability to provide all these data of individual patients looking at different scales: cells (molecular imaging), tissue, organ and whole body.

Bio-System-Radiology

As such, radiology is entering into a new field – 'bio-system-radiology'. Image-based geometries and functional assessments are used as boundary conditions for modelling and simulation of human systems with its physiological processes and pathological changes using computational fluid dynamics and other methodologies. Coming from the non-medical arena, modelling has been widely used in research and development, e.g. in the car or aerospace industry. Aiming at improvements of drug and device design, modelling is currently entering the medical arena, e.g. system-biology in oncology or simulation of blood flow in cardiovascular disease. The great advantage of system modelling includes the development of novel dedicated treatment options, which can even be tailored to the individual patient in the context of 'personalised medicine'. In clinical practice, dynamic imaging of e.g. aortic diseases and simulation of pathological flow patterns and pressure maps can be applied to support the decision: Who should be treated when and how? Thus the appropriate therapy, e.g. endograft and its size, can be selected and accurately targeted. This knowledge will also foster the development of new, dedicated stent designs. Radiology has even more to offer. We can use image data together with rapid prototyping technology to produce reproductions of living structures or organs representing the actual structure in 3-D, the so-called '3-D print'.
Novel integrative approaches in biomedical research and their translation into the clinical arena will profit substantially from multidimensional radiological imaging. Radiology should seize the chance to expand into the new field of 'Bio-System-Radiology' so that patients can benefit from innovations driven by bioengineering and systembiology.