The ascent of image-guided surgical interventions
Medical imaging is no longer limited to diagnosis and evaluation. New, high resolution imaging systems enable very precise positioning of lasers, endoscopes and micro-instruments for surgery near the nerves, spinal cord or blood vessels and for selective tumour destruction, with minimum levels of pain and low complication rates.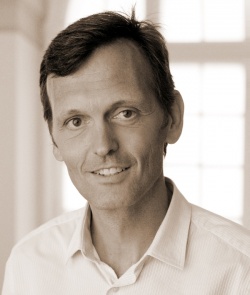 Many of these interventions can be carried out as out-patient treatments, says EH correspondent Holger Zorn, reporting on the foundation of the School of Image-Guided Interventions in Magdeburg, Germany this October. Be it vascular replacements, internal bleeding or tumour treatment – nowadays a surprising number of very different minimally invasive interventions can be carried out. However, this requires precise, well-rehearsed cooperation between specialists. The International School of Image-Guided Interventions (DAfMT) has made it its business to teach these interdisciplinary strategies and procedures. It sees itself as an educational establishment for micro-therapeutic procedures, but also a platform for international dialogue between doctors.
'We wanted to set up an interdisciplinary group that at last makes innovative image-guided treatment accessible to the medical fraternity,' explains radiologist Professor Jens Ricke, founder and president of the academy, where the key training elements are courses that intentionally go beyond the limitations of specialist medical fields and comprehensively convey the knowledge required for microtherapy. 'At the moment we are strongly concentrating on interventional radiology, endoscopy and minimally invasive surgery,' explains surgeon and programme cofounder, Professor Hans Lippert. The academy also carries out preclinical microtherapy research and development.
The launch has already been successful. The first course on selective internal radiotherapy was held in June. 'We worked with a mixed group of doctors from different European countries – they came from Belgrade, Rijeka, Ljubljana and Gdansk, to name a few,' explains gastroenterologist, co-founder and international overseer of the academy, Professor Peter Malfertheiner. Patients with hepatocellular carcinoma particularly profit from the interdisciplinary treatment strategies. To exhaust all options, surgical as well as radiological interventional procedures for local or loco-regional tumour therapy are taught alongside internist and oncological skills.
The academy offers two courses on this topic – transarterial chemo-embolisation (TACE), supported by Cook Medical, and on selective internal radiotherapy (SIRT), supported by SIRTeX Medical. In the case of TACE, the femoral artery is punctured using the Seldinger technique and a microcatheter of 2.3F – 3F in size is then inserted via the hepatic artery and guided towards the target area. A high dose of chemotherapy drugs, for instance consisting of Mitomycin C, Lipiodol and Spherex, and enriched with a contrast medium, is then selectively, regionally applied to the tumour, with the supplying vessel then being occluded. Three parameters
determine clinical success: the cytostatics concentration within the tumour, contact time between the substance and tumour cells, and the arterial hypervascularisation of the tumour. As healthy liver tissue is supplied via the portal venous system at 75% and only 25% via the hepatic arteries, whilst liver tumours are supplied at up to 95% via the arterial system, the tumour tissue is systematically destroyed and the healthy liver parenchyma (through the portal venous perfusion) is preserved.
In the case of SI RT, the femoral artery is also punctured and a microcatheter is inserted into the hepatic artery. However, no cytostatics are administered via the catheter, but millions of small, radioactive spheres, socalled SIR-Spheres microspheres. These are 20-60 μm in size and impregnated with Yttrium 90, an isotope produced during uranium fission with a half-life of 64 hours. It releases beta radiation over a relatively short distance (2.4mm in human tissue), which means that more than 97% of the radiation reaches the tumour within the first two weeks of treatment. Thus a higher dose of radiation can be applied locally than with conventional, external radiotherapy.
The SIR-Spheres-Therapy was developed at the Cancer Research Centre CRI in Perth, Australia, in 1987 and has been FDA cleared since 2002 and also CE certified. Highly precise imaging for microcatheter guidance is vital not only for the success of these two techniques but for all types of image-guided interventions. The academy uses the open 1-Tesla high-field MRI 'Panorama' manufactured by Philips, modern multislice CT scanners suitable for fluoroscopy manufactured by Siemens and Toshiba, and the robot-based flat-panel C-arm Artis Zeego manufactured by Siemens. The latter is not only found at the Centre for Radiology at the University Hospital Magdeburg, where the founders of the academy operate, teach and research, but also at the Institute of Medical Technology and Research (IMTR) in Rottmersleben and at the INKA (Intelligent Catheter) Angiography Laboratory of the Experimental Factory at the University of Magdeburg.
There, Professor Georg Rose, Chair of Medical Telematics and Medical Technology, says: 'Not only catheters suitable for MRI are developed here but also strategies for energy supply at the catheter tip and for the transfer of information.' In addition, as the laboratory always needs to be ahead of clinical practice, it now has a 7-Tesla MRI scanner at its disposal – the first of its kind in Europe.