2009 economies
Costs and job cutting expected at GE Healthcare
At the dawn of 2009, amid economic gloom worldwide, GE Healthcare has predicted that sales of its higher-priced (imaging equipment will be down in the USA in 2009, compared with 2008, and it is anticipating cost-cutting, which would include a reduction of employee levels.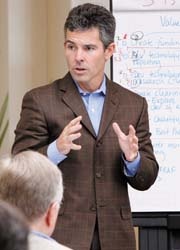 The price of MRI or CT scanners range from $500,000 to $2 million. Capital expenditure by US hospitals on tighter budgets has been cut back. A recent American Hospital Association (AHA) study indicates that 45% of the hospitals surveyed reported they were delaying purchases of clinical technology and equipment; 39% were deferring investments in new IT systems.
The GE Healthcare Global Diagnostic Imaging business unit, in Waukesha, Wisconsin, has about 7,000 employees working on CT, MR, and molecular imaging equipment as well as X-ray and digital mammography machines.
However, speaking at the RSNA meeting in Chicago, Mark Vachon, President and CEO of GE Healthcare Global Diagnostic Imaging, pointed out that the US sales losses in the US are alleviated by better sales in other markets, and that the diagnostics unit's overseas sales amount to around 50% of output. In China, for example, sales are expected to rise by 5–10% next year, and in Russia and Eastern Europe he expects double-digit sales growth rates. Sales in Western Europe are expected to grow in the lower single digits next year, whilst Japan should remain stable in 2009.
Fortunately, revenues from GE Healthcare's services division took some of the edge off its US sales losses.
Predicting better economic conditions in 2010, he added that a 'pent up demand' will again drive up purchasing, particularly due to the healthcare needs of ageing populations.
More on the subject:
More on companies: