20 years of hospital-based proton therapy
Although the potential of proton therapy was recognised over half a century ago, and since its development is now known to deliver a radiation beam accurately into a tumour without damaging surrounding tissue, high equipment costs limit its general introduction. Mark Nicholls reports on a British hospital with two decades of experience in its use - and value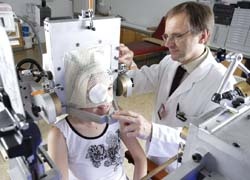 Proton therapy has a number of advantages over conventional radiotherapy techniques, particularly when treating paediatric tumours. However, while the treatment is available in the USA and European countries, e.g. France, Germany, Switzerland, there remain many states where there is no proton therapy or only limited treatment available. Among these is the UK, where the only centre – at the Clatterbridge Centre for Oncology (CCO) in Merseyside – specialises in treating tumours of the eye with proton therapy.
Dr Andrzej Kacperek, head of the cyclotron centre, is a strong advocate of proton therapy and the CCO, with others, is actively campaigning for the establishment of specialist centres in the UK where proton therapy can be offered to treat tumours in children and brain tumours.
Proton therapy is expensive; machinery costs up to 77 million euros, but Dr Kacperek argues the benefits to patients are now clear and cost effective to a health system.
Proton therapy, which uses heavy nuclear particles, is a sophisticated form of radiotherapy that can administer an effective beam of radiation onto a tumour, with the accuracy of a fraction of a millimetre in the case of eye tumours. Due to their relatively large mass, protons do not scatter, with the beam conforming to the tumour shape. This leaves other surrounding tissue unaffected and unharmed – unlike conventional radiotherapy - and leads to minimal side effects, which is what makes it suitable for brain tumours or for paediatric tumour treatments.
'With proton therapy we can minimise the dose to the critical tissue so we do not damage otherwise healthy tissue and vital organs,' Dr Kacperek explained. 'Because children are so small, there is the increased risk that healthy tissue could be affected by conventional treatment, whereas proton therapy reaches only the tumour site and little else. Patients tend to live longer and get their treatment at a younger age but more significantly, with proton therapy there is less chance of secondary tumour induction.'
The potential of proton therapy was first realised in the 1950s, he pointed out, but did not develop until the 70s, primarily and crucially due to the ability to precisely identify the tumour site with 3-D imaging and direct the proton therapy beam to it. That precise identification has only been available with the advent of 3-D CT scanners.
Proton therapy has a high success rate. With eye tumour treatment at Clatterbridge, Dr Kacperek said there is a 98% chance that the eye will remain tumour free after five years depending on tumour size.
While Clatterbridge offers proton therapy for eye tumours in the UK, children or patients with brain tumours have to travel to the USA or France for treatment.
Dr Kacperek believes proton therapy is not more widely available in the UK due to the cost of the cyclotron equipment necessary to facilitate the treatment (though US scientists are currently developing smaller and cheaper accelerator systems), and a lack of consensus between UK oncologists over whether proton therapy is needed. In this country, the Department of Health (DoH) has formed an expert advisory group to establish a framework for development for proton therapy services. In the meantime, it will make funds available for a number of cancer patients to be referred overseas for high energy proton treatment.
Eventually, Dr Kacperek would expect to see two proton therapy centres established in the UK to meet the demand. He believes that, despite the cost, such centres would benefit the NHS and patients, offsetting the cost of treating patients who sustain side effects from conventional radiotherapy treatments. 'These centres would also mean parents not having to take their children abroad for treatment, with that expense plus the upheaval and trauma of having to go overseas for several weeks. It would also increase the knowledge and skill base of clinicians and clinical scientists in the UK.'
Clatterbridge, the world's first to have hospital-based proton therapy, is about to mark its 20th anniversary of offering proton therapy treatment for eye tumours. With the establishment of the DoH advisory panel, Dr Kacperek is now more hopeful of progress in the development of UK proton therapy services than he has been over the last two decades.