World's lowest radiation doses
The Swedish firm Sectra reports that its digital MicroDose Mammography system reduces radiation by 80%, compared with traditional film-based systems, and that its completely new detection technology allows this without compromising image quality.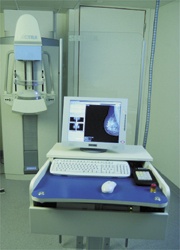 The MicroDose, developed in co-operation with mammography specialists to optimise ergonomic features and workflow, has been used to examine over 7,000 women since installation at Helsinborg Hospital in autumn 2003. Since April, the system also has been fully operational at Klinikum Krefeld, the municipal hospital of Krefeld and academic teaching hospital for the University of Düsseldorf. This hospital is now one of the first fully digitised mammography departments in Germany, producing breast images at the diagnostic workstation seconds after they are taken. The Sectra PACS for Breast Imaging is used for image review, communication and storage. 'This combination facilitates efficient review and thus faster diagnosis,' says Sectra. 'The direct digital system makes the cumbersome handling of cassettes and chemicals a thing of the past.'

Klinikum Krefeld has 19 clinics, 29 departments and over 1,100 beds, and provides all medical specialties for some 500,000 inhabitants of the Linker Niederrhein region, where the hospital has currently been commissioned to conduct a disease management programme against breast cancer.

With its roots in Linköping Institute of Technology, Sectra (which recently received the 2004 Frost & Sullivan Medical Imaging Company of the Year Award) is one of Sweden's fastest growing high-tech companies in IT and has over 500 installations worldwide. Recently the company also became 100% owner of Mamea Imaging AB.
More on the subject:
More on companies: