Web-based education in dose reduction in radiology and nuclear medicine
Siemens Healthcare is the first medical engineering company to offer a Low Dose Information Center on the Web. This English-language platform for continuing education and information around the topic of dose reduction is aimed at doctors and clinical personnel. The range of topics covered includes basic information on X-ray radiation, technical innovations relating to dose reduction and sample applications and dose protocols from day-to-day clinical activities. The content is broken down according to specialist areas and all important imaging methods which make use of X-rays or radioactive ionizing radiation. The Low Dose Information Center can be accessed with immediate effect at www.siemens.com/low-dose.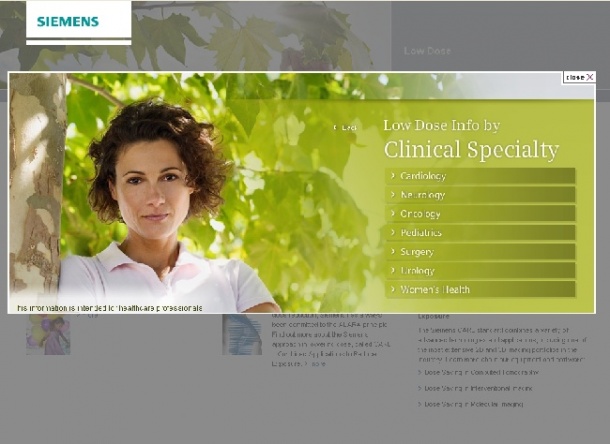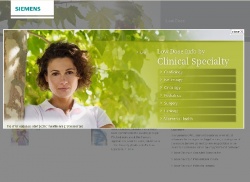 Regular training and up-to-date information are important factors in the reduction of radiation exposure in radiology and nuclear medicine. This is why physicians and clinical staff will with immediate effect have access to an information platform on low dose matters, Siemens' Low Dose Information Center. There they can obtain training and information material on possible dose reduction for all important Siemens devices which produce clinical images using X-rays or radioactive radiation. With its many technical innovations, Siemens Healthcare has already contributed to the reduction of radiation dose levels in diagnostic and interventional radiology.
The company is now offering more than 40 low-dose applications for its imaging methods, the Combined Applications to Reduce Exposure (CARE). These include applications which enable cuts in dose levels coupled with consistent image quality. The CARE applications also prepare examination reports containing patient data, the respective protocol and dose values. Clinics can analyze this information according to certain criteria, and optimize their protocols and processes accordingly.
In order to support the training of users, Siemens has become the first manufacturer of medical engineering products to publish a "Guide to Low Dose". As well as basic information on the subject of radiation exposure, this handbook contains comprehensive notes on how dose levels for all relevant imaging methods can be cut, in order to protect patients and clinical staff.
At the start of 2010 Siemens set up the SIERRA (Siemens Radiation Reduction Alliance) initiative and established a panel of experts, which aims at driving forward dose reduction in computed tomography (CT). The members of the Low Dose Expert Panel are fifteen specialists in radiology, cardiology and physics, who are internationally recognized for their publications on dose levels in CT. The body already has some results to show for its efforts, including the development of training material for CT users, which is now available in the Low Dose Information Center. Siemens has also organized an "International CT Image Contest", the second such event to have taken place. This involves institutes and clinics submitting their best clinical images recorded with Siemens CT scanners and using minimal X-ray dose levels to a jury made up of internationally acknowledged professors. The winners of this year's competition will be announced in November 2011 at the Congress of the Radiological Society of North America in Chicago.
The link to the Low Dose Information Center is www.siemens.com/low-dose.
The Guide to Low Dose is available for downloading at www.siemens.com/dose-reductionleadership
Inquiries about the Low Dose Information Center can be emailed to low-dose.healthcare@siemens.com.

More on the subject:
More on companies: