Assessing chemotherapy
Ultrasound presents an alternative to radiation
Injecting toxic chemicals into the body to kill cancer cells is a physically and mentally brutal experience for patients. The treatment cost is equally brutal for healthcare systems. Yet, often after six months of difficult treatment, patients may hear that the chemotherapy did not stop or kill the cancer. There is now a way to find out, in just 30 days and at a cost of just €183, whether the treatment is doing any good. A further plus: the exam does not expose a patient to radiation.

Report: John Brosky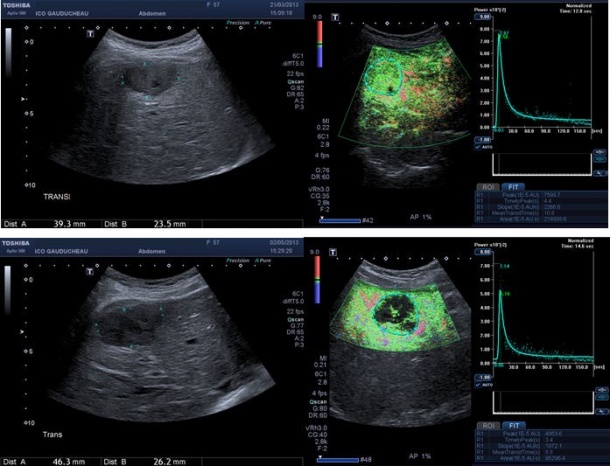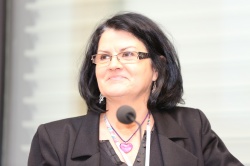 This three-minute exam, with an injection of a contrast agent, microscopic air bubbles illuminate blood circulation for ultrasound probes and can expose tumours. Proven effective through clinical studies and recommended by WFUMB and EFSUMB – the World and European and federations for ultrasound in medicine and biology – the dynamic contrast-enhanced ultrasound exam (DCE-US) can determine whether chemotherapy is working and help the oncologist to decide whether treatment should be stopped, continued or even increased.
Nathalie Lassau MD, from the Gustave Roussy Institute for cancer research in Paris, has been working with clinicians and ultrasound companies for 10 years to carefully advance this disruptive procedure through demanding requirements for clinical validation. Having won approval and recommendations for the technique in Europe, she says her goal is now to win approval in the USA, where the contrast agent has recently been approved. 'We can provide the oncologist with the results of the assessment in real-time – no one is able to do this with either a CT or an MRI Scanner.'
Key to her work has been a collaboration with Toshiba Medical systems that was the only ultrasound system manufacturer to provide the raw linear data essential to create the calculations and analysis of tumour response to chemotherapy. Today, all major ultrasound manufacturers have opened their systems to enable this breakthrough technique.
It has also attracted the interest of pharmaceutical companies, as keen as patients to know if their therapies are effective. 'Cancer has become a chronic disease,' said Lassau. 'And today there are many drugs to treat carcinoma. It's possible that a patient will start with one drug, then be switched to another drug, and so on. In my institution, a single patient may be tested across six different drugs.
'If a patient's doctor is following the current international standards, then the doctor will perform a Response Evaluation Criteria In Solid Tumours (RECIST) evaluation, which uses CT. This means the patient is being exposed to radiation to evaluate the effectiveness of the chemotherapy,' she pointed out. 'There is a strong association, supported by articles in leading medical journals, where they show there is a risk for inducing a secondary cancer through the radiation of patients with CT.'
Performing a CT perfusion exam to see whether chemotherapy is working means exposing the patient to 20 millsieverts (mSv) of radiation for each exam. 'I don't know about other countries, but I know that, in France, 20 mSv is the maximum dose allowable for one patient during a full year. With cancer patients there is a risk of scanning them every two or three months,' Lassau explains.
Some people might say that if a patient is dying from cancer, then the risk of creating a second cancer with radiation is not as important. 'This is a cynical view,' according to Lassau. 'There has been significant progress made in chemotherapy for many types of cancer and the life expectancy of patients is greatly increased.'
Patients are especially concerned about the risks of radiation exposure, and she said patient advocacy groups are helping to increase the awareness that there is now an alternative way of learning if chemotherapy is working.
Lassau continues to advance the DCE-US, currently leading a new multi-centre clinical trial to demonstrate the technique's effectiveness and reproducibility of results. The next step, she says, is to develop the system using ultrasound imaging in 3-D. 'All ultrasound companies now offer 3-D probes and we want to show a full acquisition to be sure we are studying the total tumour.'