Non-invasive Ventilation
Two in one
The recently launched Respironics V680 ventilator, from Philips Healthcare EMEA, was guided onto the market by Arne Cohrs, its Sales and Marketing Director of Therapeutic Care in Patient Care and Monitoring. We asked him about his department and the merits of non-invasive and invasive ventilators.

Report: Chrissanthi Nikolakudi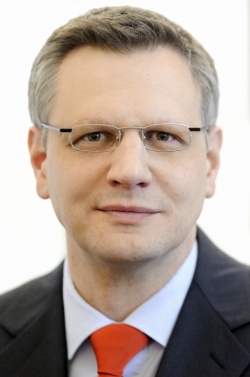 'In 2014, we restructured Philips into two strong companies,' Arne Cohrs explains. 'One focuses on healthcare, the other on lighting. It's our ambition to make the world healthier and more sustainable with our innovations – that is from the patient's room to the living room, starting with healthy living, prevention, diagnosis and treatment. This is where ventilation comes in. To realise our vision we merged the former consumer lifestyle segment and our healthcare segment. Here, ventilation is a key element, offering a respiratory solution for home and hospital care. With our launch of Respironics V680 we built upon experience and expertise in non-invasive ventilation to develop a non-invasive ventilator with invasive modes.'
Whilst Philips sells the V200 premium ventilator applying invasive ventilation with non-invasive functions, the V680 ventilator brings both together in one device. In the non-invasive part the firm improved monitoring in the V680, he explains. 'The device now carries loops in non-invasive. We also included dynamic measurements, such as dynamic elastin's resistance compliance. These are great tools and an important next step for us.

Asynchrony between the patient and ventilator:
'For the V680 we shortened the trigger delay and achieve the best flow wave,' he explains. That concept is based on the centrifuge compressor hardware and on Auto-Trak software.
'The V680 features Auto-Trak Plus, a very accurate combination of several algorithms that automatically take care of the asynchrony that normally can be seen especially in non-invasive ventilation. The user doesn't have to set the trigger because Auto-Trak Plus is automatically active while a positive wearable leak – always present in non-invasive ventilation – can be compensated. We compensate up to 70 leaks per minute. Of course, one of the biggest questions is how to make a good model for the patient. The answer is a concept based on the centrifugal compressor and on Auto-Trak Plus.'
'The compensation is one of the biggest achievements of the V680. Of course it's built on our outstanding experience with non-invasive. To synchronise with the patient, to really deal with the presence of a leak, which you always have, is to apply mass ventilation.'

Trauma care:
'We are addressing highly acute patients. A ventilator needs state-of-the-art non-invasive and invasive capabilities, as in the V680. The set-up must be quick and easy, and so must the switch between non-invasive and invasive. Moreover, the unit must be easy and intuitive to use and needs a reliable battery to ensure energy supply for a couple of hours. This is just as important as the turbine and blower, because then you can apply high pressure.
'In trauma care in the past, non-invasive ventilation was normally used as a preventive and therapy tool to manage highly acute patients. Intubation increases the risk of developing ventilator-associated injuries. Non-invasive ventilation accelerates post-surgical recovery, as long as the right pressures and improved oxygenation are used. This is especially valid for trauma patients.'

Trends:
'Recent trends go towards automatic modes, closed loop ventilation, weaning mode. We also see an overall trend towards more non-invasive efforts before intubating a patient, but obviously you want to avoid possible side effects, such as infection rates going up; so automatic modes, such as loop, are increasing, especially dedicated to the weaning process.

The future:
'Ventilation will play an important role in the future. Philips will continue to invest. We want to be the partner of choice for customers and the ICUs dealing with high acute patients. With our mass portfolio in home and hospital ventilation, the future links very well with our overall strategy for Philips worldwide.'
More on the subject:
More on companies: