Two for one - and one for two
Philips and Steris join forces to provide hybrid surgical rooms: a flexible environment for optimal imaging during open and minimally invasive cardiovasculare procedures that will optimise workflow and streamline room planning.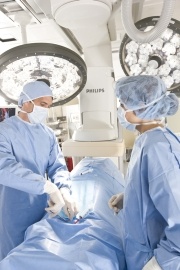 There is no turning back: More and more hospitals around the world are moving away from inpatient treatments to same-day procedures and minimally invasive surgery. Recent investigations show that more than half of the patients today leave the hospital on the day of their operation and that there has also been a major increase in the use of catheter–based treatments.
Therefore a new kind of operating theatre is needed in the hospitals. The collaboration of Royal Philips Electronics and Steris Corporation will provide two new solutions delivering hybrid operating rooms that optimise workflow and streamline room planning and installation. As a result, clinical staff will benefit from a more tailored and intuitive environment that has the potential to increase the efficiency of procedures for healthcare professionals.
Overall, the Philips-Steris hybrid room solutions are designed to
- enhance patient flow and throughput per day
- reduce the risk of complications
- reduce overall costs in the healthcare community.
For new facilities and renovation projects, Philips will provide interventional X-ray equipment and specialized imaging tables and Steris will supply specifically designed HD 360° suites for hybrid surgical rooms featuring LED surgical lighting and visualization systems, integrated OR technology and pendant (equipment management) systems. This will enable surgical and diagnostic teams to carry out a vast range of image-guided interventional radiology procedures including cardiovascular, vascular, cardiac surgery, neurosurgery and orthopedic.
Bert van Meurs, senior vice president of Cardiovascular X-ray at Philips Healthcare, said: "Our partnership with Steris demonstrates how we are providing clinicians with operating facilities that combine versatility, ease of use and optimal layout. This means clinicians can spend less time worrying about the technology and more time focusing on the patient."
"We share the same desire as our Philips colleagues to optimize the surgical environment for clinical professionals and their patients," Bill O'Riordan, Steris vice president and general manager for Surgical and Critical Care Technologies commented. "Our alliance with Philips will help healthcare providers meet growing procedural demands and embrace future surgical innovation with ease. These combined Philips-Steris solutions may also help to increase staff productivity, maximize daily patient procedure rates and meet rigorous sterility assurance standards and regulations worldwide."

More on the subject:
More on companies: