Infection
Trial pitches MGB-BP-3 against clostridium difficile
Scientists at the University of Strathclyde in Glasgow have been working to identify compounds with important anti-infective activity and suitable for treating serious infectious diseases caused by bacteria and parasites, such as Clostridium difficile. Their work has led to the creation of the new drug known as MGB-BP-3 (MGB = minor groove binder).

Report: Mark Nicholls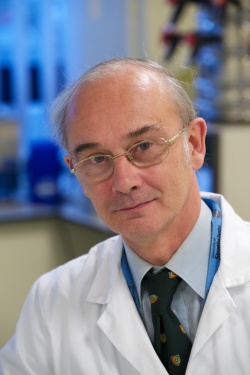 Now, the university's research and development partner MGB Biopharma has begun a Phase 1 clinical trial in healthy male volunteers to assess the safety and tolerability of the oral formulation of MGB BP-3 to treat C-Diff infections.
Professor Colin Suckling, from Strathclyde's Department of Pure & Applied Chemistry, who is the Principal Investigator in the DNA MGB (minor groove binder) technology, said: 'Drug discovery is a major research theme at Strathclyde and we are now beginning to see real benefits by reaching the clinical trials for MGB BP-3. 'MGB-BP-3 is a member of a family of compounds we call S-MGBs, or Strathclyde MGBs. Different S-MGBs target different infectious organisms – some against other infectious bacteria and others against trypanosomes – the microbes that cause sleeping sickness.
'We have been able to tune the properties of these compounds, so that pathogens can be targeted without harming the patient, and look forward to taking these potential treatments forward to trials as well.' There has been a significant decline in deaths involving C-Diff in recent years in Scotland and across the UK, but figures from the National Records of Scotland statistics still reveal 160 deaths there from C-Diff in 2013. In England and Wales, the number of C-Diff related deaths fell from 8,324 in 2007 to 1,646 in 2012, with much of the improvement down to improved hospital hygiene during that period. However, with the growing threat from antibiotic resistance, Professor Suckling said, 'New, powerful treatments are urgently needed.'
MGB BP-3, discovered as a result of research collaboration between the Strathclyde chemists and biologists, represents a new class of drugs, with a new mechanism of action that could transform the treatment of common, and potentially fatal, infectious diseases.
MGB Biopharma has allowed the Strathclyde developed S-MGB platform exclusive worldwide licensing rights for all anti-infective fields. This platform provides an opportunity to develop various compounds, with a completely new mode of action, which are distinct from the antimicrobial drugs used in clinical practice today. Drug discovery is a major research theme at Strathclyde, with Health Technologies a key area of expertise within the University of Strathclyde's new £89 million Technology and Innovation Centre, opened in July.
Trial results are expected by the end of 2015, with high expectation within the research team that the new antibiotic MGB-BP-3 will enter clinical use.
PROFILE:
Colin Suckling has been Freeland Professor of Chemistry at the University of Strathclyde since 1989, and also served as Dean of the Faculty of Science, Deputy Principal, and Vice Principal of the university. His work on the development of inter-institutional and interdisciplinary research partnerships gained him an Order of the British Empire (OBE) from Queen Elizabeth II in 2006. His research focus lies on the synthesis and properties of heterocyclic compounds designed as molecular probes for biological systems, or as drugs. Particular progress has been made in fused pyrimidine compounds with anti-cancer and anti-parasite activity and in minor groove binders for DNA with antibacterial activity