Treatment beyond anti-infectives
Professor Norbert Suttorp and his team at the Clinic for Infectology and Pneumonology, Charité University Hospital Berlin, have been working on the understanding of the basic mechanisms of inflammation and infection -- and utilising them. Professor Suttorp has been working for many years on questions relating to the subject Therapy in addition to antibiotics.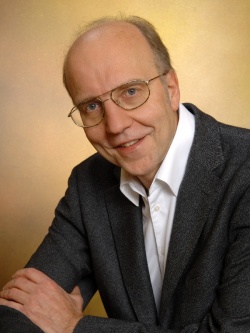 'Anti-infectives save many lives and are the first step in the treatment of infections. However, in the case of severe pneumonia, for one in 10 patients the outcome is still fatal, despite the antibiotics administered being the right ones to fight the pathogens. The administration of antibiotics on its own is often not enough. The body does not differentiate between dead and live bacteria. This means that if bacteria are killed through the antibiotics but are still in the organism they can still cause immune reactions that have fatal side effects, such as hyper-inflammation. Dead bacteria are not good bacteria. There is a need for action to improve treatments in this field further still.'
One basic idea to catch hyper-inflammation in the early stages of a severe infection is hydrocortisone therapy. The application of cortisone is unspecific and wide-ranging, it has a strong effect and, in the case of sepsis, the administration of cortisone is already quite common. However, the effect of cortisone in the case of severe pneumonia is unclear. The confusion regarding available data can partly be explained by the fact that certain bacteria specifically block the effect of cortisone. Another big problem in the case of severe pneumonia, added Prof. Suttorp, is vascular leakage. This is why it is so important to develop completely new types of treatment to restore the barrier function of the endothelial cells (cells that line the interior surface of blood vessels). This means that less fluid gets into the pulmonary alveoli and the exchange of gases is not obstructed as much.
Here, the question of a suitable target is decisive. One important molecular target structure to correct the barrier disturbance is phosphodiesterase-2, because this enzyme only becomes active during inflammation and then prevents the barrier function. Apart from innovative inhibitors that block damaging molecules, there are also new drugs, currently being tested, that immediately improve the barrier function.