Cooperation
Toshiba announces reseller agreement for Apelem
Toshiba Medical Systems Europe today announced that it has signed a European Union-wide reseller agreement with French radiology manufacturer, Apelem, to market Xantara, a remote controlled, digital radiography and fluoroscopy (RF) system developed for Toshiba Medical Systems Europe.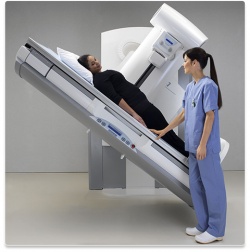 Xantara features the most advanced medical imaging technology available on a remote controlled table.The system prioritizes patient comfort during the diagnostic experience, and has the flexibility, versatility and sophistication to meet the complex demands and high standards of today's medical imaging environment, whilst producing excellent quality diagnostic images.
The table top is height-adjustable and features an innovative and ergonomic control panel, as well as a dynamic flat panel Trixell Pixium RF4343® detector.
It is deservedly the most technically superior and cost-effective all-in-one system on the RF market.Incorporating Xantara into the Toshiba Medical Systems Europe diagnostic imaging portfolio fortifies the company's high performing commercial status in the field of diagnostic medical imaging.
René Degros, Business Unit Manager X-Ray Europe explains: "The agreement reached with Apelem-DMS Group will enable us to offer a complete and competitive range of medical imaging systems to our European customers and to strengthen our market position in the RF segment."
"The great flexible concept of the Apelem product and the related clinical advantages makes this system unique in this market segment," added Mr. Degros.
Toshiba has a long held philosophy that promotes the importance of ergonomics and patient benefits through revolutionary system design backed by unique features. Reflecting this, Xantara makes the examination experience as calm and comfortable as possible thanks to combined technology that puts patients at ease during routine exams or special procedures.

Technological features of Xantara include:
Independent movement of the X-ray tube and the selector/detector block brushless motors with absolute encoders for fast and accurate positioning a generator fully integrated into the table's control panel creating one intuitive, efficient interface.
Integration of an innovative control system that permits monitoring and automatic control of the table and the collimator. Outstanding patient access modifications that ensure optimal dose reduction mobile detector and wireless functionality.
Xantara
Xantara is suitable for use across a wide range of specialties and procedures including urology, pulmonary, tomography, gynecology, nephrology, arthroscopy, pediatrics, angiography, orthopedics, Accident & Emergency and gastrointestinal medicine.
Source: Press Release Toshiba Medical Systems Europe
More on the subject:
More on companies: