Sponsored • Immunoassay
The quantitative measurement of cardiac troponin I concentration
Pathfast hs-cTnI is a chemi-luminescent enzyme immunoassay (CLEIA) for the quantitative measurement of cardiac troponin I (cTnI) concentration in whole blood or plasma at the point-of-care (POC).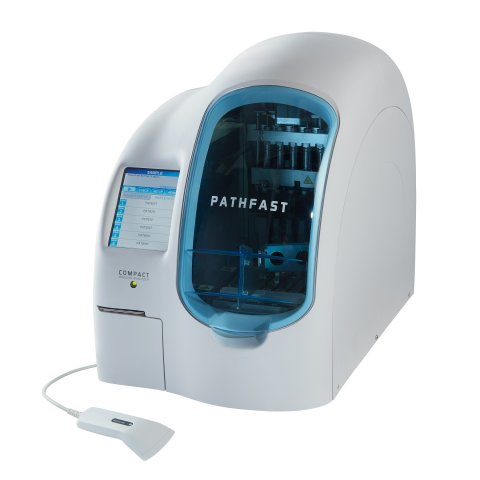 Reagents are single use in all-in-one cartridges and up to six tests in parallel can be analysed,' the manufacturer Mitsubishi reports. 'Low concentrations of cTnI can be analysed by using high sensitivity cardiac troponin (hs-cTnI) assays that meet the criteria for high sensitivity defined by IFCC and ESC.'
Pathfast provides high accuracy and precision of test results similar to central lab analyser, combined with the flexibility of a POCT assay within 17 minutes out of whole blood and plasma by an all-in-one cartridge solution, Mitsubishi confirms. 'In clinical studies Pathfast hs-cTnI has been evaluated for a 99th percentile upper reference limit of 29.0 ng/L at an imprecision of 6.1%, which is less than 10%, and fits for the criteria of hs-cTnI, declared by IFCC.
'Moreover, gender specific 99th cut off values were identified and 0/1 hour Rule-out and Rule-in algorithms of NSTEMI for Pathfast could be established. In large validation cohorts the NPVs for rule-out of NSTEMI exceeded 98%. For Pathfast hs-cTnI, cut off levels have been examined for 669 patients with suspected NSTEMI and NPVs between 98.9% and 100%. The PPVs for rule-in obtained from validation cohorts meet the rule-in criteria of 75-80%.
'Cut off values with PPVs between 75.2% and 78.6% have been identified and troponin values could be determined above the limit of detection in 66.3% of healthy individuals. Pathfast assays show no biotin interference since utilised monoclonal antibodies are alkaline phosphatase conjugated instead.'
Mitsubishi is at ESC!
Hall 7, Level 2, K200
More on the subject:
More on companies: