The ERS Congress
The European Respiratory Society (ERS) Congress is the world's biggest annual scientific gathering in respiratory medicine.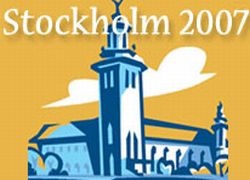 This year, after a five-year absence, it returns to Stockholm, a city famous for its Nobel prizes and Karolinska Institute (whose researchers contributed to 11 European Respiratory Journal original articles in 2006). The Congress is augmented by the world's leading experts in this field. 17,240 delegates from over 100 countries attended the 16th ERS annual Congress in Munich last year.

This year there will be 40 Symposia; 20 'Hot Topic' symposia and 'Grand Rounds'; free communication sessions, including 86 oral presentation sessions, 64 poster discussions, themed posters and electronic poster sessions; 23 postgraduate courses, one educational and 18 'Meet the Professor' seminars, as well as evening symposia held by industry.

The important role of primary care in respiratory health service provision will also be highlighted in a 'Primary Care Day' on 15 September. The programme has been endorsed by the International Primary Care Respiratory Group and the Swedish Respiratory Group in Primary Care.
The European Board of Accreditation in Pneumology (EBAP) will allow European pneumologists to apply for Continuing Medical Education credits.