The European Respiratory Society (ERS) 14th Annual Congress
Céad Mile Fáilte!
"Céad Mile Fáilte!" said ERS President Walter McNicholas, to greet those about to attend this the 14th Annual Congress of the ERS, (Glasgow, Scotland, 4-8 September 2004).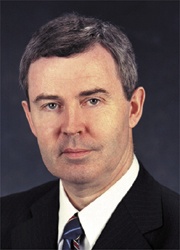 English translation from the Gaelic greeting: 'A hundred thousand welcomes!'

Each successive year of the ERS sets new records in terms of attendance and scientific presentations, he pointed out. Last year 15,000 people from over a hundred countries attended the congress in Vienna - an over two-third rise in numbers compared with 5 years ago.'

Whilst the congress is the highlight of the year for the Society, the ERS is increasingly active in many other areas, ranging from education to advocacy, he pointed out. 'The ERS School has become a vital and vibrant part of the Society, particularly in terms of external educational courses, and this year alone eight such courses are planned for various venues around Europe, on topics ranging from cystic fibrosis to non-invasive ventilation.'

Political advocacy, a particular focus of activity this year, is now supported, particularly at the EU, due to a new office being established in Brussels. Active efforts are also underway to increase interaction and cooperation with National Respiratory Societies, he added.

Among new offerings from ERS is clinically oriented journal, aimed primarily at practitioners, and revised membership options that offer reduced membership fees to those in poorer regions of Europe and beyond.