The BRANSIST alexa
A multipurpose digital angiography system
The multipurpose BRANSIST alexa, which aims to provide total support for advanced catheterisation procedures, features a 12 x 12-inch flat panel detector (FPD) – an ideal size, the manufacturer Shimadzu points out, for covering interventions from head-to-toe, from brain blood vessels, cardiac and abdomen to peripheral blood vessels in the upper and lower extremities.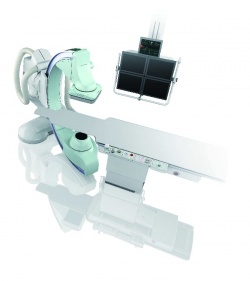 SUREengine, a real-time high speed image processing unit, ensures excellent image quality while reducing the exposure dose to the patient. The BRANSIST alexa offers many functions, including real-time DSA, RSM-DSA, road mapping and cardiac function analysis software. The total system design enables safe and stress-free operation during interventions.
The high-precision C-arm
To support procedures and reduce examination time, the C-arm must provide rapid positioning, accurate repositioning, simple operation and adequate performance. 'The C-arm is capable of single-plane positioning of up to 25 degrees per second,' Shimadzu reports. 'The BRANSIST alexa's controller enables intuitive operation of the C-arm just like an extension of the operator's body. Two types of C-arm controllers are available: the lever-type Cyber-Console and griptype CyberGrip.' The C-arm system covers a variety of cardiac, general angiographic and digital subtraction procedures including interventional studies, neural studies and peripheral run-off exams. All C-arm movements are microcomputer-controlled to prevent collision with the table or patient. 'The six-axis triple-pivot construction offers wide body coverage through C-arm flexibility: a longitudinal coverage of 190 cm and a transverse coverage of 140 cm,' Shimadzu adds.
Direct Memory
The system adopts the Direct Memory type C-arm position memory, highly appreciated by hospitals. 'Rather than storing numbers and angle displays, this memory intuitively indicates the angle to swing the C-arm with respect to the patient. So easy to handle that the operator intuitively understands how to operate the system.'
RSM-DSA patented technology
Shimadzu's expertise in high-speed image processing has resulted in real-time subtraction applications, lowering the X-ray exposure dose, reducing the volume of contrast medium, and eliminating the need to restrain a patient. RSM-DSA technology is especially useful for interventions in the lower extremities and examinations in the abdominal region where, the manufacturer explains, the effects of breathing and intestinal gas motions readily occur.
More on the subject:
More on companies: