Article • Chromatogram analysis
AI raises reliability for peak detection in mass spectrometry
Chromatograms from mass spectrometry (MS) feature characteristic peaks to signify the response of a target molecule. Artificial intelligence (AI) can help in the challenging task of identifying these peaks. We spoke with Atsuhiko Toyama, International Product Manager (LCMS) at Shimadzu, about the company's Peakintelligence software and its benefits for result interpretation and variations in parameters.
Interview: Daniela Zimmermann, Report: Mark Nicholls
A peak's height and area hold information on the presence and amount of a compound, but as Toyama explained: 'If we do not see a peak, or recognise a peak, then we have no data. This is why peak detection is so important.' However, interpretation is also a matter of weighting the parameters: 'Area is more reproduceable because we are recording at certain intervals and is more representative of the abundance than the height,' the expert added.
More accessibility, less variability
Current computational analysis models rely on slope detection to recognise peaks. However, variability in settings carries over to variability in results, which can make it difficult to interpret them, especially for non-MS expert personnel, Toyama said: 'Someone who has only little experience in evaluating MS data might find it difficult to estimate the impact of a given parameter and can therefore not judge whether the detected peak is adequate.'
Several different algorithms for detecting peaks exist, but each comes with its own drawbacks, Toyama continued: 'For example, an approach which sets a threshold for peak detection will yield different results depending on which value is chosen as the threshold.' To offer a more consistent approach and solution, Shimadzu has developed its Peakintelligence Version 2 software for liquid chromatography with tandem mass spectrometry (LC-MS/MS). Equipped with algorithms developed using AI, it quickly, reliably, and automatically detects peaks appearing in chromatograms. The detection is performed without adjusting parameters, which substantially reduces the need to visually confirm and correct data.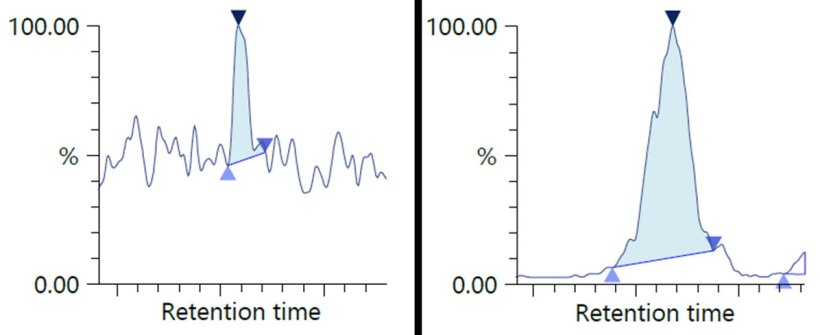 Auto picking the best presets
The Peakintelligence solution is trained to recognise peaks, parameter free. 'It is one single algorithm that detects all sorts of peaks in all contexts,' Toyama explained. 'This eliminates a big issue – the trade-off between detection sensitivity and precision. Before, parameters had to be adjusted depending on the target compound – blood, saliva, or other fluids require different parameters to avoid mismatch between the baseline value and the threshold.'
The AI used for Shimadzu's parameter-free algorithm was trained on 70,000 pieces of data from chromatograms, allowing it to automatically define baseline and threshold values for every application. 'The training data has been reviewed and processed manually for ideal peak detection by a MS expert,' said Toyamo. 'On this foundation, the algorithm delivers adequate peak detection even with difficult samples.'
The Peakintelligence software aims to narrow down the variability of traditional, parameter-based algorithms. 'Because this AI technology is parameter-free, it helps standardise the process to get the same result every time,' the expert said – in short: without the need for parameter adjustment, peak detection also works at a reliable and constant level.
A huge time-saver
The AI software is not going to take over the complete process, but it is going to standardise and liberate a large proportion of the workload

Atsuhiko Toyama
Version 2 of the software has been developed in collaboration with Fujitsu Limited, and is five times faster than in its previous iteration, Toyama reported. This means it can process approximately 600 chromatograms in 15 seconds – a task that previously required 75 seconds. In automatic peak detection and visual correction, Peakintelligence completes the process in 10 minutes, roughly a third of the timespan necessary for other software.
The Shimadzu software achieves about 98% concordance with data analysis by experienced users, but delivers results much quicker, accelerating workflows at research sites. This in turn allows technicians to be reallocated from labour-intensive roles to more creative tasks, increasing overall productivity. While there is still a manual verification for the remaining 2% of the results, the final review can be performed by the system administrator alone, Toyama added. 'The AI software is not going to take over the complete process, but it is going to standardise and liberate a large proportion of the workload.'
Users can give AI "specialist training"
The aim of Shimadzu's AI package is to streamline the data processing in a flexible way to accommodate a wide range of settings. 'The next big challenge is giving users the tools to further train the AI for themselves,' Toyama said. 'We trust that the existing fixed algorithm is precise enough for general purpose. However, to be equipped for more specific applications, users may further customise the AI's training – this is our next development target.'
Current applications of the software are within the food safety sector, with Shimadzu aiming for greater range within a clinical laboratory and medical environment in Europe. To promote the solution in this setting, Shimadzu includes a one-year demo licence of Peakintelligence in every MS installation. The company is confident that this way, organisations can be convinced of the product's benefits and assess potential return on investment in the technology.
More on the subject:
More on companies: