Sponsored • Cutting-edge product and clinical applications
World-class technologies for healthcare
"With Your Stories – lifetime healthcare support" is the future-driven approach combining the best of two worlds by using our expertise in medical imaging systems and laboratory instrumentation to benefit patients through even better prevention, diagnosis, treatment and follow-up and thus help them in the pursuit of a healthy life.
Medical Imaging Systems from Shimadzu
With more than 100 years of extensive clinical experience in X-ray technologies, the company provides a multitude of advanced radiographic and fluoroscopic systems. World-leading technology, and cutting-edge applications and functionalities enhance healthcare providers' examination efficiency and safety while reducing the radiation dose.
Radiography & Fluoroscopy – Sonialvision G4 LX edition "Best-in-Class" digital multi-purpose R/F system
The Sonialvision G4 LX edition high-performance R/F table provides numerous best-in-class features significantly increasing its functionality and operability. The Sonialvison G4 LX edition unites the widest possible range of examinations and can be used inter-departmentally. The largest available FPD at 43 x 43 cm, a long imaging chain movement capability over 200 cm and SID extension up to 180 cm provide an extensive imaging area.
NEW SCORE PRO Advance
This next-generation image processing technology significantly reduces background noise in real-time and offers a balanced optimization of fluoroscopic image quality and exposure level in various fluoroscopic examinations, such as ERCP, barium swallow, and other GI studies.
SLOT Advance
This function provides fast and highly accurate images with long fields of view, such as for full spine or full leg images, taken with a minimal X-ray dose.
Tomosynthesis, making the invisible visible
This state-of-the-art imaging technology offers high-quality multi-slice images in a simple and quick workflow, and at a low exposure dose. It enables images to be taken at any angle including weight-bearing exams required for diagnosis.
Mobile DR System – MobileDaRt Evolution MX8
With the MobileDaRt Evolution MX8, Shimadzu, now offers the 8th generation. Mobile DR systems make an important contribution to modern imaging in clinical applications and optimize all internal hospital processes and cost structures. Since its introduction, the MobileDaRt series by Shimadzu has been much appreciated by users worldwide due to its excellent overall concept. So far, more than 6,000 systems of this series have been installed and effectively support mobile imaging in ICU/NICU and ER, in pediatrics and orthopedics, as well as applications in disaster areas.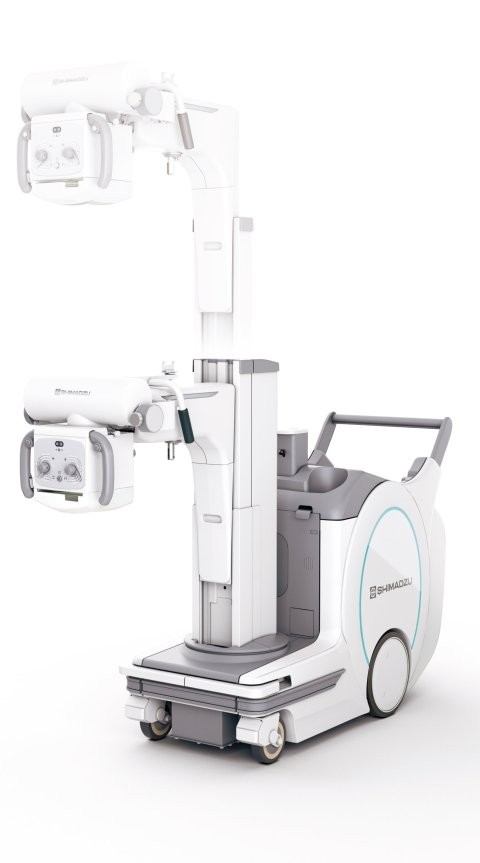 The system concept offers innovations in mobility, functionality and digital imaging, such as:
GLIDE VIEW™ function supports the newly developed collapsible column ensuring improved forward view and the power-assisted driving handle enabling comfortable travelling and easy system positioning in restricted spaces and between beds
"All Free" and "Inch Mover" buttons allowing free one-step positioning of the X-ray tube
Largest possible selection of highly sensitive detectors of its class, allowing flexible system configuration that matches individual clinical requirements
Fully integrated 19-inch (48 cm) screen for improved operability
Useful safety features, like lockable FPD storage bins, coded system access, sensitive system impact sensors and color-coded status indicators.
More on the subject:
More on companies: