The 75th DGK Congress
Debating the Syntax Study
In April, the 75th annual congress of the German Cardiac Society (DGK) was considered a great success, drawing in some 7,900 specialists.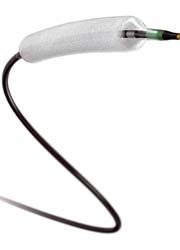 As predicted, the Syntax Study received a significant response. This compared the surgical bypass procedure with percutaneous coronary intervention (PCI) with stent implantation in patients with coronary heart disease. After one year, bypass surgery and PCI fared equally well in terms of mortality rates and heart attack risk. Catheter intervention was superior in terms of stroke occurrence, though significantly inferior in relation to the criterion 'necessity of repeated intervention after one year'. With all comparison criteria amalgamated, the randomised study resulted in an accumulated event frequency of 17.8% for PCI and 12.1% for bypass surgery.
According to Professor Albert Schömig, Director of the German Heart Centre in Munich, the Syntax Study results are not suitable for the assessment of the general superiority or inferiority of either procedure. 'The main problem with Syntax is not so much the study data, which are actually outstanding. The problem lies in the concept,' he argued. 'As its primary end point, the study has the combination of death, myocardial infarction, stroke and repeated revascularisation. However, because of the different importance of the individual components of this combined end point, one has to differentiate between complications such as death, myocardial infarction and stroke, which are clinically relevant for patients, and less relevant events, such as repeated revascularisation.'
His colleague Professor Christian Hamm (Bad Nauheim) similarly debated: 'It was probably too optimistic to include re-interventions in the statistical calculation because, compared to the surgical procedure, they occur so often that this alone would determine the outcome of the study. The difference between the two modalities lies in the occurrence rate of strokes and the frequency of re-interventions. However, one needs to question whether this can be considered to be of equal importance.'
The drug-eluting balloon (DEB)
At the congress, Professor Bruno Scheller, Head of Interventional Cardiology at the Clinic for Internal Medicine III, University Hospital Saarland, in Homburg/Saar, introduced a new procedure for restenosis. In cooperation with Professor Ulrich Speck of the Department for Experimental Radiology at Charité Hospital, in Berlin Mitte, he has developed a drug eluting balloon (DEB), which has now also been licensed in Europe for the treatment of stenosis of the coronary vessels. According to Prof. Scheller the DEB utilises the fact that there is no need for long-term drug elution to prevent restenosis in the long term. This also applies to existing coronary stents, so that no further stents need to be implanted. A further advantage of treatment with the DEB lies in the significantly lower requirement for the use of Clopidogrel
Meike Lerner (European Hospital) asked Professor Scheller about the advantages and current use of this novel dilatation device.
Meike Lerner: Drug-eluting stents (DES) have recently lost some allure. Has this driven research on drug-eluting balloons?
Prof. Scheller: These were, in fact, parallel developments, partly because stents are not suitable for all patients, partly because restenoses are a problem, which also occurs after balloon dilatation without a stent implant. Since the late 90s we have worked intensively on ways to avoid restenosis. The double balloon used by the Tübingen working group was a major step forward, because it enabled us to deliver the drug in the vessel for a few minutes. In 2002, drug-eluting stents (DES) were introduced that made radiation therapy of the vessels superfluous and led to a virtual end of all research activities in this area. If there is something Dr Speck and myself can claim credit for it is that we continued our research – against all odds. In late 2003, we started a clinical study with the new balloon and, in 2006, we published the results in the New England Journal of Medicine.
What prompted cardiologists to look at DES more critically?
One major problem with drug-eluting stents is the fact that the surrounding tissue does not heal well due to sustained drug delivery. Therefore, cardiologists started to take another close look at balloons. Our drug-eluting balloons have been available for three years – but their time had not yet come.
Finding an industry partner to support our work was not so easy. From very early on we presented our concept to all major medical devices companies that are active in cardiology. However, they were not interested, because drug-eluting stents were considered the gold standard. So, B. Braun deserves major praise for placing their trust in us in autumn 2004 and making the coated balloon ready to market.
Have DEBs become part of the daily clinical routine?
As far as clinical indications are concerned, yes. DEBs have been on sale throughout Europe since mid-March. We changed our procedures in Homburg and are now using DEBs for all restenoses as well as smaller vessels — even so-called bifurcations undergo the new balloon technique – in short, all indications where stents failed to deliver convincing results. To what extent the new procedure will be integrated into the existing policies in other hospitals will depend on their planning and financial resources.
]What role will DEBs play in the future, particularly compared with other stents?
Obviously, the allure of a new method starts where old methods fail. Thus, at this time, we consider DEB to be a complementary therapy. Nevertheless, we are currently conducting further studies to test drug-eluting balloons as primary therapy with stenoses in larger vessels.
Are there groups of patients for whom DEB is not a suitable option?
No, fortunately not. Quite the contrary: we treated a number of patients where tissue build-up required three or four restenosis and where, according to the surgeons, no suitable location was available for a bypass. Even with those patients the drug-eluting balloons showed very good outcomes. Moreover, we are collecting data for peripheral DEB applications.
Is it possible to quantify the risk of a delayed restenosis in DEB patients?
Our clinical study covers two years, some interventions happened as far back as five years and as yet we have not had a single patient who presented with a delayed restenosis.