The 3-Tesla
MR-guided intra-operative surgical suite
A next generation MR-guided intra-operative surgical suite has been installed at Barrow Neurological Institute at St. Joseph's Hospital and Medical Centre following collaboration with GE Healthcare and Maquet GmbH & Co. KG.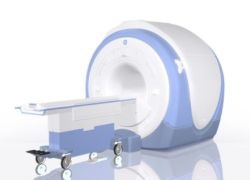 This, GE reports, includes one of the world's most comprehensive portfolio of neuro-imaging solutions, using 3-D imaging to navigate and validate treatments, to help increase both accuracy and speed of interventions.

Developed with input from radiologists as well as neurosurgeons, the 3-Tesla MR surgical suite has multiple possible uses. The GE neurosurgical suite provides MR imaging in one room of the surgical suite, and an operating theatre (OT) in another. Surgery is performed on the Maquet MR/X-Ray compatible OR table system and real-time imaging is performed on the GE Signa HDx 3.0T MR scanner. Uniting the two is a state-of-the-art transport system that enables patients to be moved quickly and safety to, and from, MR to OT during surgery, minimally invasive procedures or therapies.

Thus, patients can be evaluated during, not after, surgery to assess its success, and a real-time 3-Tesla MR image can be evaluated without patient transfer to another table.
More on the subject:
More on companies: