Strategic Allicance between Philips and Atom Medical Corporation
Philips Electronics and Atom Medical Corporation, a major manufacturer of neonatal medical equipment, announced today that they are expanding their relationship to serve customers with a more complete portfolio of perinatal care solutions.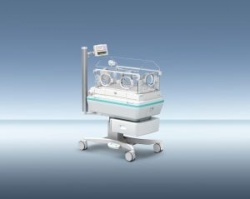 This alliance now includes neonatal patient monitoring, apnea home monitoring, neonatal incubators and warmers, jaundice management, respiratory support, perinatal clinical informatics as well as therapeutic support products and clinical education offerings. This new distribution agreement will be launched first in the United States and selected European markets.
"As a leader in perinatal care solutions, Philips is excited about the synergy that comes from aligning our medical technology capabilities with Atom's full range of thermoregulation solutions. Working with Atom creates a unique opportunity for Philips to be able to offer the complete product portfolio for hospitals to use to treat babies in the delivery room, newborn nursery and neonatal intensive care units," said David Russell, general manager, Perinatal Care, for Philips Healthcare. "This alliance bolsters our leading market position, providing an opportunity for continued and broader development of perinatal care solutions with access to additional markets."

The two parties have a shared commitment to provide developmentally-friendly products and education to support improved outcomes in neonatal care, while also supporting the family-centered care that enables caregivers to focus on the actual health and well being of mothers and babies rather than only the technology that surrounds them. Atom has more than 70 years of experience in manufacturing neonatal care products, introducing their first incubator solution in 1952. In addition, Atom has distributed Philips Avalon fetal / maternal obstetrical monitors and neonatal developmental care products in Japan since 2007.
"Atom Medical is a leading company in the global neonatal care field and our specialized thermoregulation technology will help to complete Philips' excellent, broad perinatal care solutions portfolio. We are pleased to expand our relationship with Philips, with its strong global reputation and tradition for innovation in healthcare. Our collaboration will result in enhanced solutions for the most important fragile babies and for clinicians working in perinatal care," said Barry Matsubara, CEO, for Atom Medical Corporation.
More on the subject:
More on companies: