SOMATOM Definition CT Receives FDA Approval for First Six Dual Energy Applications
At the RSNA 2006 Siemens Medical Solutions announced it has received 510(k) approval from the U.S. Food and Drug Administration (FDA) for the first of many syngo® Dual Energy applications for the SOMATOM® Definition - the dual source computed tomography (DSCT) system.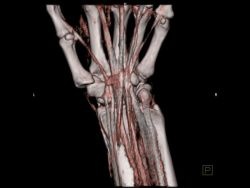 The FDA clearance allows for use of SOMATOM Definition's two X-ray sources at two different energy levels in simultaneous spiral scanning. This enables clinicians to explore various scenarios for tissue characterization and paves the way for dual energy to become part of the standard daily clinical routine.
"Siemens SOMATOM Definition redefined CT imaging and is once again pushing the clinical boundaries to a higher level with expanded capabilities that turn the most complex examinations into an easy CT routine," said Bernd Montag, president, CT Division, Siemens Medical Solutions. "The expanded use of the Definition solidifies its value as a complete and comprehensive solution, not only for large hospitals, but also for diagnostic imaging centers and community hospitals."
Earlier approaches in dual energy CT created two subsequent but separate scans at different tube voltages, but failed to seamlessly align the imaged anatomy. SOMATOM Definition overcomes this limitation by permitting the use of two sources at Siemens Introduces Web-Enabled CT, Receives FDA Approval for Dual Energy Applications, page 2 two different kilovolt (kV) levels simultaneously. The result are two spiral data sets acquired in a single scan providing diverse information, which enables clinicians to differentiate, characterize, isolate, and distinguish the imaged tissue and material.
The Definition now provides even more unique clinical advantages, including direct subtraction of bone in complicated anatomical regions; virtual un-enhanced liver images without multiple scans; evaluation of lung perfusion defects; visualization of cartilage, tendon and ligaments; and, differentiation between hard plaques and contrast agents.
More on the subject:
More on companies: